Earl Thomas has been absent from the voluntary portions of the Seahawks' offseason program, something not too uncommon for a player of his caliber. Most reporters covering the team have expected Thomas to show up when mandatory minicamp arrived with the potential for fines if Thomas continued to stay away.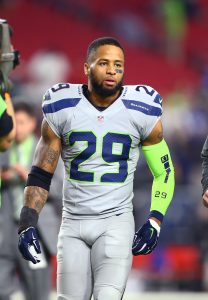 But now Thomas has made it clear he will not be reporting until his contract demands are satisfied, announcing the news himself (Twitter link). In the post, Thomas says he will "not be attending the upcoming mini camp or any team activities until my contract situation is resolved." The team can fine Thomas up to $84,435 if he misses all three days of the minicamp.
There were rumblings this offseason that the Seahawks may look to trade Thomas, with Thomas' hometown Cowboys a popular rumored destination, but coach Pete Carroll appeared to put that talk to rest in April when he indicated the team was planning on having Thomas for the 2018 season. General manager John Schneider admitted at the time that the team considered trading Thomas, but said that "nothing was remotely close to happening."
Today's post by Thomas is sure to revive those trade rumors. Thomas is a Texas-native and it's long been rumored that he'd like to play in Dallas. Thomas has played for the Seahawks since being taken by them in the first round back in 2010. He's a five-time All-Pro and one of the best safeties in the league, but the team appears to have some concerns about his age and his health.
Reacting to the news from Thomas, Bob Condotta of the Seattle Times says that the issue isn't whether the Seahawks have the salary cap space to give Thomas what he wants, but rather "it's whether they want to give him that kind of a long-term contract at age 30 and beyond. That's the issue." (Twitter link). Thomas will turn 30 in May of next year.
Thomas did say in his statement that he wants to "remain a Seahawk" for the rest of his career, but that he feels he's "earned the right to have this taken care of as soon as possible." Thomas is currently set to be a free agent at the end of this season. Whatever happens next, it'll be a situation worth monitoring this summer.
Photo courtesy of USA Today Sports Images.
Follow @PFRumors