After an offseason that broke down favorably for his status with the Giants, Eli Manning is eager to show the franchise's new decision-makers their faith wasn't misplaced.
The Giants didn't trade him nor draft a quarterback at No. 2 overall, and Manning has a clear path toward likely multiple additional seasons as a starter. He addressed his timeline and other subjects from the Manning Passing Academy in New Orleans.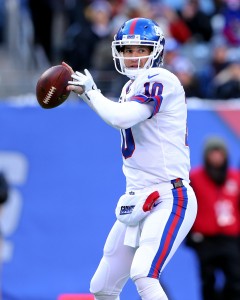 "Obviously it has been an unbelievable run, but I want to continue doing it. It's not over," Manning said during an NFL Network interview (video link, via Giants.com). "I know that. … I'm excited for this upcoming year and really prove that I can still play at a high level. We can win games. We can win championships."
New York flopped massively in 2017, going 3-13 with an injury-riddled roster. This coming after an 11-5 season in 2016 represented the Giants' biggest single-season regression since they went from 14-2 in 1986 to 6-9 in a strike-shortened '87 season.
But Dave Gettleman did not use the draft real estate Ernie Accorsi once did in adding Manning. Conversely, the 37-year-old signal-caller remains under contract through 2019 and does not have a clear-cut successor like he would have had Gettleman used the Giants' only top-five pick since 2004 to select a quarterback.
Big Blue wasn't in agreement on the rookie passer class, allowing Manning's run to continue unimpeded. He'll be at the center of the Giants attempting to return to the playoffs for the second time in three years.
"We'll get some guys back healthy, get Odell [Beckham Jr.] back healthy," Manning said. "There is a lot of anticipation, and that's a good thing. There's an urgency to get better quickly and make something happen."
The two-time Super Bowl MVP now has Saquon Barkley in the mix and a new-look offensive line. However, the Giants' most important weapon remains Beckham. He's entering a pivotal season, angling for a receiver-record contract and pondering a holdout.
Despite not doing team drills, however, Beckham worked with Manning last week and is viewed to be at or close to 100 percent after his ankle injury.
"Got to throw some routes with him in minicamp. He looks great, looks healthy," Manning said Friday. "Last year was tough on him, getting injured and going through those things. He wants to have a big year and play well."
Photo courtesy of USA Today Sports Images.
Follow @PFRumors