The Giants were enamored with Saquon Barkley to the point they didn't waste much time turning in their card. And the team is now prepared to enter the season without a surefire heir apparent behind Eli Manning.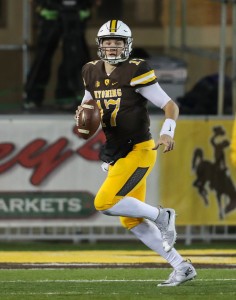 It turns out, Big Blue's brass didn't appear to have a consensus among which of the quarterbacks they would take, with Paul Schwartz of the New York Post reporting different sects of the Giants' decision-makers preferred three separate signal-callers. And they didn't feel strongly enough about one of them to pull the trigger at No. 2.
Mostly, the Giants were down to Sam Darnold or Josh Allen, with some Josh Rosen support in the building as well. Schwartz reports there wasn't much love for Baker Mayfield among the new-look Giants power structure.
If it were up to Pat Shurmur, Allen would have been the quarterback pick — had the franchise been leaning in that direction. Upside drew Shurmur to Allen. However, the Giants would have selected Bradley Chubb if Barkley wasn't available, per Schwartz.
The Giants placed the same grade on Barkley and Chubb, but the Penn State running back was listed atop Chubb's name on Big Blue's board. They proceeded accordingly, and are "ecstatic," Schwartz writes.
Additionally, Schwartz lists second-round pick Will Hernandez as a near-surefire starter at guard. Hernandez caught the Giants' eye at the Senior Bowl, and one staffer told Schwartz the the team's consensus was the UTEP lineman's Combine performance would not have him available by the time New York's second-round window opened. The Giants signed Patrick Omameh in free agency and still have returning starter John Jerry on the roster. And Schwartz adds that Lorenzo Carter could well get a strong push to start ahead of free agency addition Kareem Martin, the latter's knowledge of James Bettcher's system notwithstanding.
Photo courtesy of USA Today Sports Images.
Follow @PFRumors