The Rams are going to have plenty of pressure on them heading into next season. Following a 2017 campaign that saw them win 11 games and earn their first playoff appearance in more than a decade, the franchise loaded up this offseason.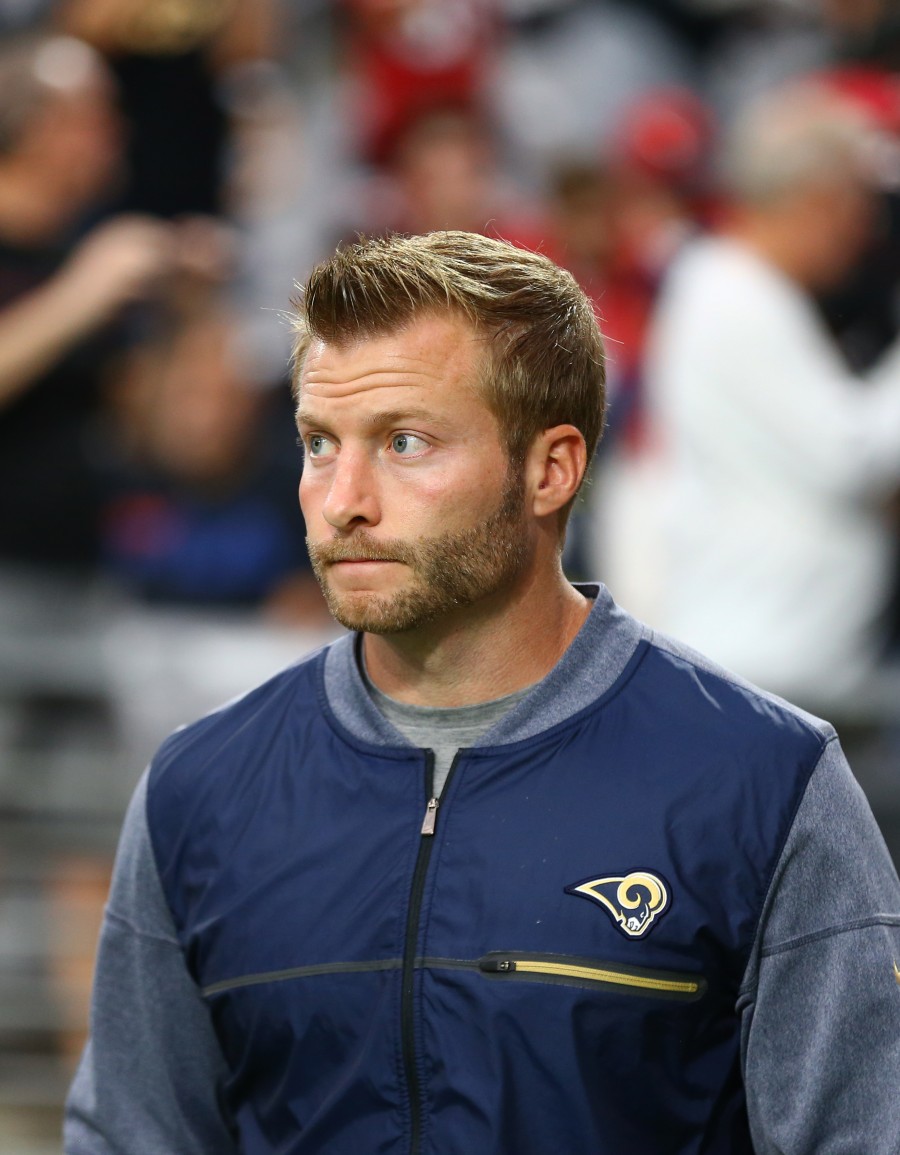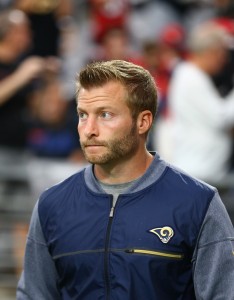 While the team let go of players like Sammy Watkins, Trumaine Johnson, Alec Ogletree and Robert Quinn, they seemingly found upgrades in Brandin Cooks, Aqib Talib, Marcus Peters, and Ndamukong Suh . Clearly, there will be a lot of pressure on this talented squad, but it sounds like Sean McVay is ready for the challenge.
The Rams head coach recently sat down with Myles Simmons of TheRams.com to discuss his offseason additions and the team's expectations in 2018. The whole interview is worth checking out, but we've compiled some of the notable soundbites below:
How OTAs have been going, especially when it comes to adding new players into the system:
"I think it's been really good. There's been a lot of good competition, guys getting familiar with our systems, continuing to learn each other — how to compete but be smart doing it. And I think we're just starting to see guys just continue to make improvements one day at a time. Our coaches are doing a great job. So want to wrap up OTAs the right way next week."
On the acquistion of wideout Brandin Cooks, and how his addition will help quarterback Jared Goff:
"Yeah, I think with Brandin, and then being able to play alongside such a great receiving corps that we have in place, he's been a nice addition. Feel really good watching the way he's been able to implement himself into our offense by the way he's learned, how conscientious he is in meetings. And he's a guy — if you just look at, really, his career — he is a really fast player, but he can do everything. He plays big for a smaller-stature guy. But he's strong. He can win short, he can win intermediate, he can go down the field. So I think you're really not limited in any way that you can utilize him. And there's a reason why he's had over 1,000 yards and [at least] seven touchdowns each of the last three years. And he's a special player for sure."
On the addition of cornerback Aqib Talib, and how his veteran presence will help the defense:
"Well I think like anybody else, he's had a lot of success in this league. But I think he leads by being able to connect with the players, and then going out and doing things the right way with the way he practices, the way he is in meetings. I've been extremely impressed watching him from afar. I was with him in Tampa his rookie year, and now just getting a chance to reconnect with him — smart player, cerebral. Seen a lot of different things, understands concepts. And then he's also got the athleticism to match up with it. And he's very comfortable having played in this system with coach Phillips in Denver. So, it's been a seamless transition for him so far. And we feel really good about having Aqib with us."
On how much Talib's relationship with defensive coordinator Wade Phillips influenced the acquisition:
"Oh, it's huge. I think that's one of the things you feel so good about, is that a lot of the players that we've acquired from outside the organization have been people that have worked with some members of our coaching staff. And Wade in particular with the knowledge and experience that he has, he's got a great feel for personnel around this league. And having worked with some great players, you hear guys want to come play for him because of the way he works with those guys, the way he puts them in position to have success. And Aqib is very similar. And, like I said, extremely pleased that we got him and it's a real credit to Les and his staff for getting that trade done."
On first-year quarterbacks coach Zac Taylor:
"Yeah I think when you look at Zac, great college quarterback, had some success playing professionally, Big 12 Player of the Year. He's got a great even-keel demeanor and disposition. He's been a coordinator, when he called plays for the Dolphins. He was at the University of Cincinnati. But I think he's just got such a great perspective and a really good way about relating to the players, communicating in a clear, open, and honest fashion. And that demeanor, that disposition — especially dealing with the quarterback position — I think is perfect. Extremely detail-oriented. Been really pleased with what he's done. And he's another guy, having had him in place, getting to work with our receivers last year, and now watching the way he's interacting with Jared, with Sean, and with Brandon — it's been a really seamless transition. And he's done a really good job so far."
On avoiding a "boom-or-bust" mentality:
"I think the NFL is so competitive — don't really look at it like that. Look at it as, we feel confident with the players that we have, with our coaches. And we're focused on getting better every single day. And I think in the short amount of time that I've been fortunate to work in this league, you realize how competitive all 32 teams are — the other 31 teams other than us. And [they've got] great coaches, great players. And you can't afford to kind of get complacent. You've got to always focus on getting better one day at a time, establishing a standard of performance and how our process guides our everyday approach — and that's the one day at a time. And you can't really get caught up in things that we can't control. We kind of just want to be just want to be where our feet our planted, and that's being present in the day and controlling what we can control."
Photo courtesy of USA Today Sports Images.
Follow @PFRumors