Another revelation came out of the Jameis Winston saga on Friday, and it could be viewed as damaging for the Buccaneers quarterback.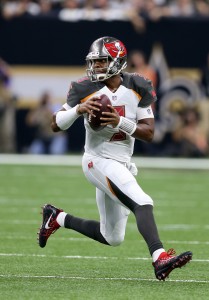 Mark Scruggs, attorney for a friend of Winston's, Brandon Banks, said Winston did get into the car alone with the unnamed Uber driver that night in March 2016, when the accuser said Winston groped her. This came after the then-22-year-old quarterback was directed by friends to the Uber after being "unruly" at a Scottsdale, Ariz., nightclub. Scruggs said Banks saw an "intoxicated" Winston get into the car alone, which contradicts Ronald Darby's account that Winston was never alone with the driver, ESPN.com's Paula Lavigne reports.
Banks, Winston and Darby were at the Scottsdale nightclub that night. This is the first time Banks, a former Vanderbilt football player, has been identified as being at the scene, Lavigne reports. Banks is currently serving a 15-year prison sentence after being found guilty of aggravated rape and aggravated sexual assault in June 2017 for an incident that occurred at Vanderbilt in 2013. Banks was awaiting trial in March of 2016.
Scruggs told ESPN that Winston, Darby and Banks were in a separate Uber that night, but that the driver who made the accusation against Winston was the one who picked him up from the nightclub. Banks did not confirm the driver's account, though, since he was not in that particular Uber car. The driver said she and Winston were the only passengers.
"It appeared that Winston was trying to lay this on Brandon," Scruggs said, via Greg Auman of the Tampa Bay Times, regarding his client's reason for coming forward. "They were together that night. They took an Uber to a club, the three of them did, and Brandon said nothing whatsoever happened while the three of them were in the Uber. … For whatever reason, they felt they needed to put (Winston), escort him into an Uber so he could go home on his own. There's two different Uber rides is what we're talking about."
Winston's camp said the Uber driver was confused as to the number of people in the vehicle, and Darby said last year that he and Winston were in the backseat. The NFL is expected to suspend Winston for at least three games and did not view Darby's account as entirely credible.
Some with the Buccaneers, and some close to Winston outside of the team, are "struggling to fathom" that he groped an Uber driver, Mike Jones of USA Today notes. But considering Winston's past, most notably the 2012 rape accusation, the new information coming out about the March 2016 night makes it more likely Winston will serve at least a three-game suspension. And it could cloud his future with the Bucs.
Tampa Bay picked up the 24-year-old passer's fifth-year option in May, but that $20.9MM 2019 salary is guaranteed for injury only. Now that he's expected to miss the Bucs' first three games, there will be immense pressure on the former No. 1 overall pick to shake the on-field inconsistency and while obviously avoid any additional off-field trouble.
Photo courtesy of USA Today Sports Images.
Follow @PFRumors