Back in May, we learned that the Vikings hoped to extend the contracts of a few of their key young players: Anthony Barr, Stefon Diggs, and Danielle Hunter.  Hunter just signed a lucrative long-term deal at the end of June, which allows the team to turn its attention to Barr and Diggs. We have already examined Barr as an extension candidate, so now let's take a deeper look into Diggs' case for a new contract.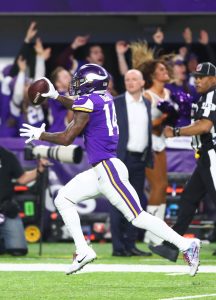 Earlier this decade, Diggs was one of the most sought-after high school recruits, a consensus five-star prospect who landed scholarship offers from blue-blood programs like USC, Ohio State, and Auburn. But Diggs, a Maryland native, spurned those offers and opted to play for his hometown school, which delighted Terrapins fans but which may have had a negative impact on his earning power during the early stages of his professional career. Although Diggs flashed his breathtaking talent at Maryland, he was held back to some degree by poor quarterback play and by injuries. so when he elected to forego his senior season and enter the NFL Draft in 2015, he slipped to the fifth round, where the Vikings finally scooped him up (Diggs' smallish stature also didn't help his cause).
It would be hard for Diggs to complain too much, though, as he has established himself as one of the best young wideouts in the league during his first three years in Minnesota, and he will head into his platform year with the prospect of catching passes from the best quarterback he has ever played with, Kirk Cousins. If all goes according to plan, Diggs could be one of the hottest commodities on the open market next offseason, and the Vikings would like to lock him up before that happens.
As usual, there are some issues for both sides to think about when negotiating Diggs' big payday. Diggs has yet to top 1,000 yards in a season, and his professional career, much like his collegiate one, has been hampered by injuries. Though Diggs has not yet missed significant time as a pro, he has dealt with groin issues in each of the last two seasons, and he said he was "never the same" in 2017 after suffering a groin injury in Week 4. His knee and hip have also given him problems.
On the other hand, the receiver market has been booming, and Joel Corry of CBS Sports believes that Davante Adams' four-year, $58.5MM extension with the Packers would be a realistic foundation for contract discussions (after all, Adams has not yet cracked the 1,000-yard mark either, and he only recently became Green Bay's No. 1 receiving option). Alternatively, now that the Vikings have Hunter under contract for the foreseeable future, Diggs could be hit with the franchise tag next offseason, though the $17MM projected tag number for receivers may be unpalatable for Minnesota, regardless of how good Diggs is in 2018.
Corry suggests that, in light of the massive contracts that relatively unaccomplished receivers are pulling down, Diggs may be inclined to test the open market even if he ultimately wants to remain with the Vikings. The guess here, though, is that the two sides will reach an accord before Diggs officially hits free agency. Minnesota has a track record of extending its key players during contract years, and the chance to lock in a boatload of guaranteed money may be too enticing for Diggs to pass up, as he has played the first few years of his career on a bargain fifth-round rookie deal. He will likely not reset the receiver market even if he becomes a free agent, and Minnesota will certainly pay him like a top-10 player at his position. A four-year pact in the neighborhood of $60MM, with $20MM or so in guarantees, seems like a good bet.
Photo courtesy of USA Today Sports Images.
Follow @PFRumors