Who says nothing happens in the NFL on the Fourth of July? On Wednesday morning, Calvin Ridley's agents took to Twitter to announce that the wide receiver has signed his rookie deal with the Falcons. Ridley, selected with the No. 26 overall pick, has received a four-year, $10.9MM deal, as dictated by his slot.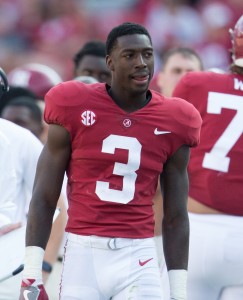 First-round picks have been slower to sign that the rest of this year's selections, including those taken near the end of the first round. That's because Seahawks rookie running back Rashaad Penny agreed to a lower fourth season salary guarantee than last year's No. 27 overall pick, Bills cornerback Tre'Davious White. Those selected near the end of the first round often don't get the entirety of their fourth season base salary guaranteed, but agents can push for a decent chunk of it to be guaranteed. Penny's reps apparently settled for less, which may have emboldened teams near the back of the order.
Apparently, the Falcons and Ridley's camp were able to meet somewhere in the middle. Both sides are hoping that minutia like Ridley's guarantee in 2021 and the offset language contained in the deal will be a non-factor.
Ridley joins a loaded Falcons offense as he slots behind Julio Jones and Mohamed Sanu. After racking up 224 passes for 2,781 yards and 19 touchdowns at Alabama, the Falcons believe that Ridley will be able to hit the ground running in 2018.
"What I've seen is excellent transition in and out of breaks, it's as good as anybody I've been around," quarterback Matt Ryan said recently. "He's got very good hands. He's smart, we put a lot on these guys early in OTAs as far as knowing different positions, knowing where to line up, different route combinations, adjustments that we have versus certain coverages. He's picked up all that stuff really well. You can tell he's been well coached prior to coming into the NFL."
Photo courtesy of USA Today Sports Images.
Follow @PFRumors