Le'Veon Bell won't play in 2018. A 2019 franchise tag for Steelers running back Le'Veon Bell would cost more than $25MM, so that tender isn't an option for Pittsburgh. Bell doesn't need to accrue another season to reach free agency next spring, so he never reported by Tuesday's deadline, meaning he won't play during the 2018 campaign. The transition tag is still in play for Bell next year, but that option wouldn't give the Steelers any compensation if Bell leaves via free agency.
Redskins lose Alex Smith. 33 years to day of Joe Theismann's horrific leg injury, another Washington quarterback suffered a gruesome break of his own. Smith fractured both his tibia and fibia and will require immediate surgery, and he'll miss the rest of the season. In the midst of a solid season that nonetheless failed to match the highs of his 2017 campaign, Smith had guided the Redskins to a 6-3 record and first place in the NFC East. Colt McCoy, who hasn't attempted a pass since the 2015 season, will now take over under center.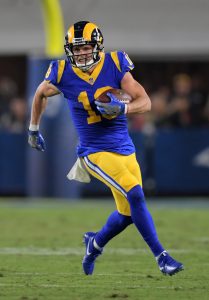 Cooper Kupp goes down. Kupp had already missed two games earlier this season after suffering an MCL injury, but an ACL tear will now knock him out for the rest of the year. One of Jared Goff's favorite red zone weapons, Kupp has been incredibly efficient since entering the league as a third-round pick in 2017. After racking up 62 catches for 869 yards and five scores last season, Kupp was on pace for roughly 70 catches, 985 yards, and ten touchdowns in 2018. Josh Reynolds figures to take over as Los Angeles' third receiver and will see a ton of action given the Rams' use of three-receiver sets.
Eagles pass defense loses another starter. Philadelphia has already witnessed safety Rodney McLeod go down for the year, while cornerbacks Jalen Mills and Sidney Jones have also missed a good deal of time. Now, starting corner Ronald Darby will miss the remainder of the season after suffering a torn ACL. Darby had graded as a top-30 CB on the year, per Pro Football Focus, while Football Outsiders ranked him as a top-15 defensive back in both yards allowed per attempt and success rate. Scheduled to become a free agent next spring, Darby's market will certainly be affected by his injury.
Bengals make staff changes. Following an embarrassing Week 11 loss to the Saints, Cincinnati fired defensive coordinator Teryl Austin, who had just joined the club this season. The change marks the second consecutive season the Bengals have terminated a play-caller, as Ken Zampese lost his job as Cincinnati's OC after two 2017 games. Head coach Marvin Lewis will take over as DC, while recent hire Hue Jackson could eventually pitch in on defense.
Photo courtesy of USA Today Sports Images.
Follow @PFRumors