With Alex Smith suffering a broken tibia and fibia on Sunday, the Redskins have begun searching for another quarterback, with several veterans expected to work out for the team on Monday. One name that has not been linked to a workout is Colin Kaepernick. If Washington called, however, people close to the quarterback said he is still interested in returning to the NFL, Pro Football Talk's Mike Florio writes.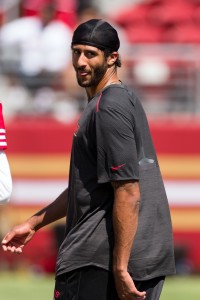 This contradicts another story from USA Today's Mike Jones, who tweeted that some people close to the former San Francisco signal-caller didn't know if he wants to play anymore. Florio, however, says he still works out five hours per day, six days a week in the hopes of landing another gig. Regardless which source is right, any time a team has a void under center, Kaepernick's name will appear.
After all, filling in for an injured Smith was how he rose to prominence with the 49ers in 2012. In seven starts, the dual-threat passer led San Francisco to a 5-2 mark and then proceeded to power the team to the Super Bowl, where it fell to the Ravens, 34-31.
Though he wants to play, it remains to be seen if he will be given the chance.
Kaepernick, of course, has not played in the NFL since 2016, as clubs have shunned him following his national anthem demonstrations. While he was scheduled to work out for the Seahawks earlier this year, the audition was eventually canceled after Kaepernick declined to stop kneeling during the anthem.
Kaepernick alleges that owners from around the league colluded to keep him unsigned. The alleged collusion stems from his protest of social inequalities in the United States, which included kneeling for the national anthem.
At 6-4, the Redskins sit atop the NFC East heading into a pivotal Thanksgiving Day tilt with the second-place Cowboys. A loss will drop them into a tie for first place with Dallas.
Follow @PFRumors