Three years ago, Malik Jackson inked a six-year, $85.5MM contract with the Jaguars. However, Jackson doesn't expect to play out the second half of that deal. In a conversation with John Reid of the Florida Times-Union, Jackson said that he expects to be released in the offseason.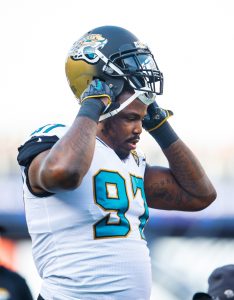 "In my mind, if I'm third or fourth on the depth chart making $14.5MM to $15MM, I don't see too much future for me in Jacksonville," Jackson said Wednesday. "I'm not trying to be a journeyman by any means. But it's a business and soon as you try to forget that then it's a rude awakening for sure."
Jackson was a Pro Bowler in 2017, but he was dropped from the starting lineup in November and has ceded snaps to rookie Taven Bryan. With that in mind, Jackson's assessment is probably spot on. The Jaguars can save $11MM by cutting the 28-year-old (29 in January) versus just $4MM in dead money.
Jackson, meanwhile, is taking it all in stride. He says that he's learned to embrace his role as a mentor to Bryan and other young teammates, following the example set by Peyton Manning. He's also motivated to close out the season strong and showcase himself for prospective suitors.
"With my situation, I'm playing for 31 other teams potentially," Jackson said regarding the final three games. "I have to show these teams that I'm playing at a high level. I'm a pass rusher with one sack. So I have to show this team that I'm consistently still getting to the quarterback, but I'm just not finishing. So for me, I have to show a lot of people a lot of things about who I am and what I am and what I'm continuing trying to build for myself."
Jackson has just one sack this year, a big drop off from his eight sacks in 2017. However, he still has a nose for getting to the quarterback, as evidenced by his 40 pressures this season. That ties with Ndamukong Suh for eleventh in the NFL among defensive tackles, according to Pro Football Focus.
On the flipside, his overall PFF score leaves much to be desired. Jackson is ranked just 94th out of 118 qualified DTs, per PFF.
Photo courtesy of USA Today Sports Images.
Follow @PFRumors