The Eagles' loss to the Saints in the divisional round started a countdown clock to what appears to be an inevitable divorce between the team and Nick Foles. The team still views Carson Wentz as its quarterback of the future, which means Foles will very likely be suiting up somewhere other than Philadelphia next season. Foles can pay a $2MM fee to essentially buy his free agency, but the team could then still franchise tag him and attempt to trade him. Whether it's through free agency or in a trade, today we'll be taking a look at his most likely destinations: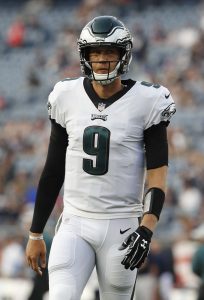 The Jaguars are widely seen as being a competent quarterback away from being a contender, and might be the most likely team to pursue a veteran quarterback this offseason. The team made it all the way to the AFC Championship Game last year, but regressed heavily in 2018 and finished the season 5-11. Jacksonville is looking to make the most out of the window that it has with their elite defense, and is a natural contender for Foles.
The team appears set to move on from Blake Bortles and Cody Kessler, and could have an entirely new quarterback room in 2019. If Foles were to be traded the Eagles would likely see the Jaguars as an appealing option, as they're in a different conference and won't play each other for another four years. On the other hand, the Jags' cap situation isn't the best, and they'd need to shed some salary to be able to offer what Foles is likely to be seeking. The Jaguars have the seventh overall pick in this year's draft, and could use that to select a quarterback like Dwayne Haskins instead of pursuing a veteran.
Another AFC team that could be interested is the Dolphins. The team isn't going to be bringing back Ryan Tannehill, and Foles could be a nice option as a bridge quarterback. Tannehill hasn't been able to stay healthy the past few seasons, and this year wasn't any exception as he missed five games with a shoulder injury. The team is looking to get younger, and they might want a capable veteran signal caller to help them transition.
With Tannehill's salary off the books they'll have plenty of money to offer him a deal, and Miami doesn't have many other options for a starter next year. On the other hand, the Dolphins have signaled that they plan on going all in on tanking 2019, so they might not be interested in winning too many games with Foles. If the plan is to lose as many games as possible, it wouldn't make much sense for them to give up draft assets for Foles if the Eagles do end up tagging him.
The Broncos already have a Foles-esque placeholder in Case Keenum, but there's been some chatter that they might want to move on from Keenum this offseason. Denver could get out of Keenum's contract fairly easily, and he has no ties to the new coaching staff led by Vic Fangio. If Fangio and his new offensive coordinator Rich Scangarello decide they don't love Keenum, they could ask Broncos GM John Elway to look elsewhere.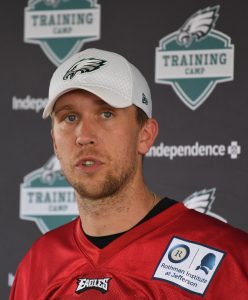 Elway has aggressively pursued veteran quarterbacks in free agency in the past, most notably Peyton Manning a handful of years ago and Keenum last offseason, so it wouldn't be surprising if he's interested in Foles. Denver doesn't appear to be rebuilding and thinks it has the pieces to win with the right quarterback, and Foles could be what they're looking for.
A slightly more out of the box possibility is the Redskins. The Eagles would surely prefer he didn't go to their division rival, but if they don't tag him they might not have any say. It was reported earlier today that Washington was expecting Alex Smith to miss the entire 2019 season, so the Redskins will very likely be in the market for a quarterback.
The Redskins know him well, and Foles beat them easily in Week 17 this year. While the Eagles might do all they can to prevent it, this would certainly be the most entertaining scenario of all. Foles playing Wentz twice a year would be great, and it would be surprising if the Redskins don't at least look into it.
So, what do you think? Where will Foles end up next season as he looks to continue his magic? Vote in PFR's latest poll (link for app users) and weigh in with your thoughts in the comments section!
Photo courtesy of USA Today Sports Images.
Follow @PFRumors