It appears the Eagles are still trying to see if they can acquire better value for Nick Foles than a compensatory pick. They are now likely to pick up his $20MM option, Ian Rapoport of NFL.com reports (video link).
If the Eagles passed on this option, Foles would be a free agent. However, even if Philadelphia exercises this option, the sides are expected to still part ways. Foles has a $2MM buyout avenue to free himself from this option, and, per Rapoport, that is his expected move if Philly goes this route.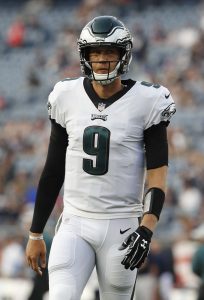 Should Foles give the team $2MM to buy out the option, the Eagles are also believed to be considering the franchise tag, RapSheet adds. This would open the door to the Eagles trading Foles, which has been on the radar for a bit now, and Rapoport adds the parties could be set to work in concert to send the Super Bowl LII MVP to a destination that makes sense.
Tag-and-trade scenarios are rare. The Patriots executed this 10 years ago, sending their backup quarterback, Matt Cassel, to the Chiefs. Like Cassel and the Chiefs in the 2009 offseason, Foles and his new team — in the event this scenario occurs — would be expected to work out a new contract. Foles would sign his tag immediately to trigger a trade, per Rapoport.
Several teams are in need of starting quarterbacks. The Jaguars, Redskins and the Dolphins could be the prime suitors for a veteran like Foles. Miami, however, may not be what Foles is seeking, the team being expected to target a 2020 quarterback prospect. A trade may rule out the Redskins, too. Though the Eagles previously traded Donovan McNabb to their rivals, they would likely avoid an intra-NFC East trade here. Although they may be more interested in Joe Flacco, the Jags have discussed Foles. Jacksonville may be the leading candidate to pursue this, cap issues notwithstanding.
Teams like the Broncos and Giants, with Pat Shurmur having coached Foles in Philadelphia, make sense too. But those franchises would seemingly be closer to drafting a first-round passer instead of bringing in another veteran.
The Eagles could land a third-round 2020 compensatory pick for Foles, in the event he buys his way out of this and no tag-and-trade path comes to fruition. That appears to be the Eagles' value floor for Foles.
Photo courtesy of USA Today Sports Images.
Follow @PFRumors