The NFL has reached a settlement agreement with Colin Kaepernick and Eric Reid regarding their grievances, according to a joint statement from their attorney and the league: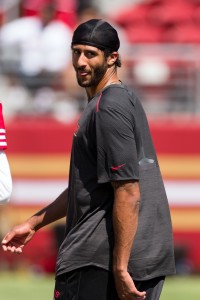 [RELATED: AAF Reached Out To Kaepernick, Tebow]
"For the past several months, counsel for Mr. Kaepernick and Mr. Reid have engaged in an ongoing dialogue with representatives of the NFL. As a result of those discussions, the parties have decided to resolve the pending grievances. The resolution of this matter is subject to a confidentiality agreement so there will be no further comment by any party."
Kaepernick and Reid accused NFL teams of colluding in order to keep them out of work. Reid eventually found a home with the Panthers in 2018, but Kaepernick has been out of football since the 2016 season. To some, the settlement agreement may signal the NFL's unwillingness to disclose information that would give credence to allegations from the former 49ers. It's also possible that both sides reached a compromise after taking a full assessment of the resources that would be needed for litigation.
In recent weeks, Kaepernick's camp rebuffed NFL settlement attempts, but it appears that the NFL upped its offer to a satisfactory point. It remains to be seen whether the deal will pave the way for Kaepernick to return to the NFL, but Reid has a home thanks to his recent three-year, $22MM+ extension with the Panthers.
The NFLPA also issued a statement on the matter:
"Today, we were informed by the NFL of the settlement of the Colin Kaepernick and Eric Reid collusion cases. We are not privy to the details of the settlement, but support the decision by the players and their counsel. We continuously supported Colin and Eric from the start of their protests, participated with their lawyers throughout their legal proceedings and were prepared to participate in the upcoming trial in pursuit of both truth and justice for what we believe the NFL and its clubs did to them. We are glad that Eric has earned a job and a new contract, and we continue to hope that Colin gets his opportunity as well."
Kaepernick, 31 in November, has spent his entire NFL career to date with the 49ers. From 2011-2016, he went 28-30 in his starts, though he did take the team to the Super Bowl following the 2012 season and the NFC championship game following the 2013 campaign. Kaepernick's last start came in January of 2017 as the 49ers closed out a trying season with a loss to the Seahawks.
Since then, clubs have shunned the QB following his national anthem demonstrations. Kaepernick has not played at an elite level in several years, but, from a talent perspective, he is unquestionably deserving of a roster spot given the dearth of quality QB options on the open market.
Photo courtesy of USA Today Sports Images.
Follow @PFRumors