The Ravens' defense will look considerably different in 2019. While C.J. Mosley and Eric Weddle helped anchor the past few units, Terrell Suggs was a cornerstone Raven for more than 15 years.
Suggs departed Baltimore for Arizona, where he grew up and played in college. But had Ozzie Newsome not followed through with the plan of stepping down as Ravens GM, Suggs said he would probably have re-signed with Baltimore.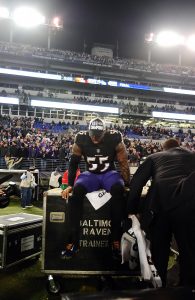 "Through and through I'm an Ozzie Newsome guy," Suggs said during an appearance on Fox Sports' Skip and Shannon: Undisputed (via NBC Sports Baltimore). "Once I knew Ozzie was going to step down as GM, you know, I kind of had to question my future in a Ravens uniform."
Newsome's exit strategy became official in February 2018. Longtime lieutenant Eric DeCosta is now running the Ravens' front office. New starters will take their places on the 2019 Ravens' defense. Mosley had started on the past five Baltimore defenses, Weddle the past three.
Suggs said he had considered this move for a while and added that the Ravens' decisions on other veteran stalwarts this offseason affected his choice. Although news of Mosley's Jets agreement did not emerge until after Suggs decided to leave, the Ravens opted to let the off-ball linebacker test the market.
"I actually decided before — I hadn't slept in weeks. I was going to go back to Baltimore because it was the safe thing to do," Suggs said during Undisputed of his initial instinct, before reconsidering and opting for Arizona (via BaltimoreBeatdown.com). "I loved and respected that organization so much that I had to remove myself out of the situation."
The 36-year-old edge defender signed a one-year, $10MM deal with the Cardinals. He initially caught Newsome's attention while playing at Arizona State in the early 2000s.
Photo courtesy of USA Today Sports Images.
Follow @PFRumors