There has been plenty of chatter suggesting that the Redskins want to trade up from their No. 15 overall pick in order to better position themselves to (presumably) nab one of this year's top collegiate passers. Earlier today, we heard yet again that Washington is contemplating a move into the Top 5, and while there was no definitive report as to the club's hypothetical trade partner, the Jets — who hold the No. 3 overall pick — are allegedly determined to trade down.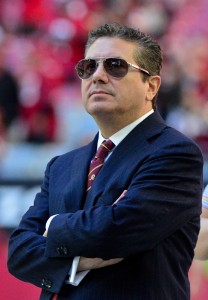 Adding more fuel to that fire are several tweets suggesting that Redskins owner Dan Snyder is perhaps even more involved than usual in his club's first-round selection. Grant Paulsen of 106.7 The Fan hears from a team source that Snyder has "taken over the first round of the draft," and the last time that happened, Washington surrendered a king's ransom of draft picks to acquire the No. 2 overall selection in the 2012 draft, which it used on Robert Griffin III (Twitter link).
Mike Garafolo of the NFL Network has a similar report, and he indicates that Snyder "absolutely" has influence on the Redskins' draft, while team president Bruce Allen also has an important role. On the other hand, senior VP of player personnel Doug Williams has limited input on the team's picks, and head coach Jay Gruden has even less (Twitter link).
That in and of itself doesn't mean much, but when put in the context of the RGIII trade, it could serve as a harbinger of things to come tomorrow night (plus, Garafolo's report obviously doesn't offer an optimistic view on Gruden's long-term future with the club, which is an interesting sidenote). However, Mike Jones of USA Today tweets that the Redskins do not feel they can part with their early picks, and if they want to jump all the way up to No. 3, they will have to essentially empty their cupboard of early picks. Jones does note, though, that it's lying season, so the Redskins' reported reluctance to part with prime draft capital could be a smokescreen.
For what it's worth, Paulsen says that Redskins spokesman Tony Wyllie categorically denied the notion that Snyder has taken control of the team's first-round pick, but it's his job to quash these kinds of rumors, regardless of their veracity. And regardless of Snyder's influence on the draft, the Redskins have firmly established themselves as one of the most intriguing teams to keep an eye over the next 24 hours or so.
Photo courtesy of USA Today Sports Images.
Follow @PFRumors