As the NFL and House Oversight Committee's separate investigations into Dan Snyder and his franchise's workplace conduct persist, the subject of the longtime Washington owner's potential ouster continues to come up.
A "growing consensus" exists in some ownership circles that removing Snyder from his post would be the best course of action for the NFL, Mike Florio of Pro Football Talk reports. This consensus has certainly formed among NFL followers and many fans of Snyder's franchise, but the embattled leader's fellow owners are the only figures who count here. Twenty-four votes are necessary for this monumental step to take place.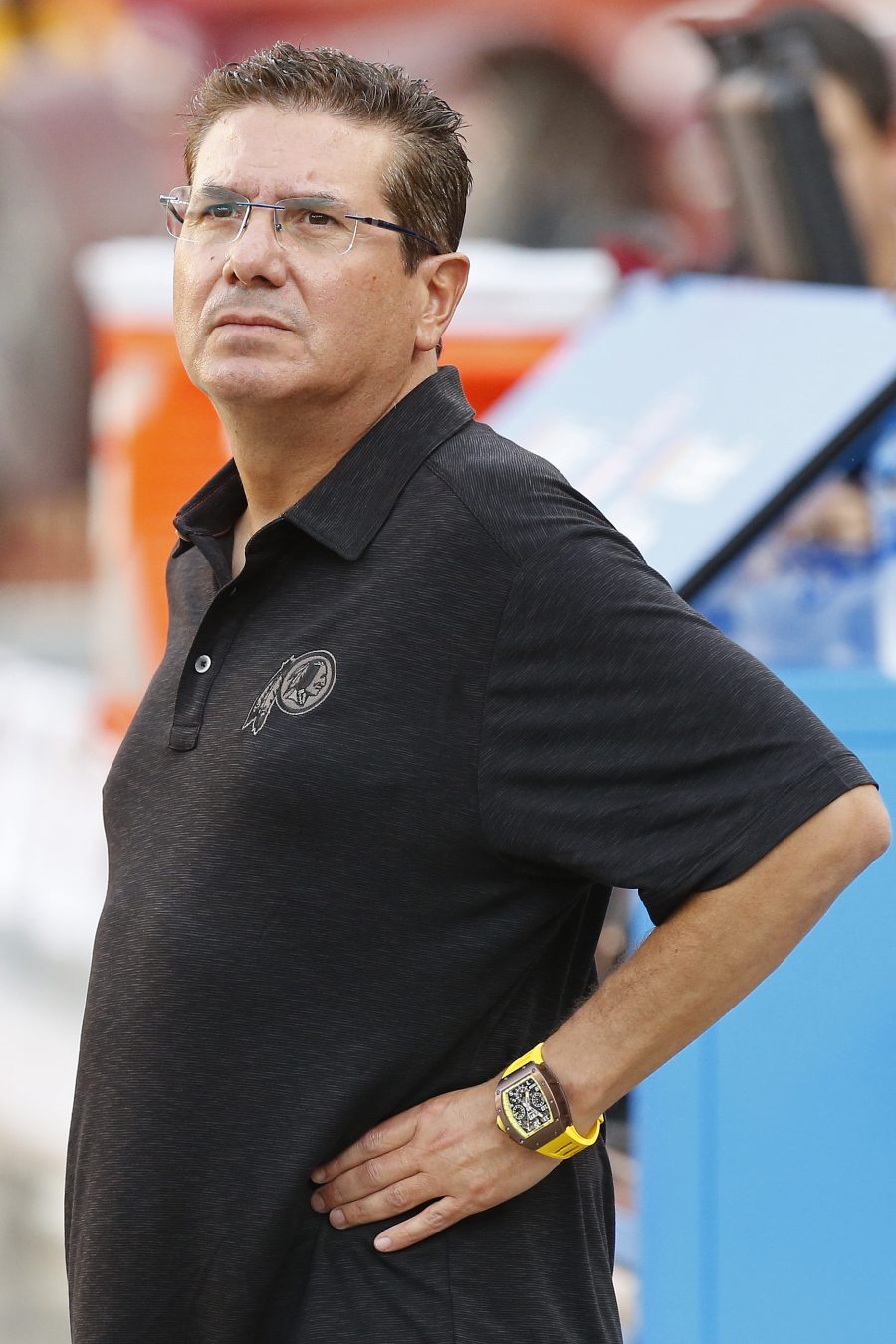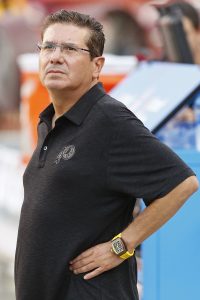 This follows a Washington Post report that indicated some owners are warming to the idea of forcing Snyder to sell his franchise, but reaching the 24-vote threshold is another matter entirely. But that historic prospect has moved closer to the NFL radar than it was a year ago, Florio adds. And, as this once-unthinkable scenario gains steam, Snyder is going on the offensive.
Many owners would like to see Snyder out, according to ESPN.com's Don Van Natta Jr., Seth Wickersham and Tisha Thompson, but the 57-year-old Commanders owner is believed to have hired firms to investigate other owners and Roger Goodell for the purposes of gathering dirt — in the event a vote becomes a genuine possibility.
Snyder has authorized investigations of "at least six" owners, per ESPN.com, including Jerry Jones, who has been a longtime defender of his fellow NFC East owner. Furthermore, Snyder has reached out to Jones for support in recent weeks — in an effort to prevent the owners from removing him — only the Cowboys owner has distanced himself from his peer. Snyder has "lost Jerry," an executive told ESPN.com, and this explosive report indicates the Dallas owner has said he is not sure he can protect Snyder any longer. Investigations of this sort are not new for Snyder, who was believed to have conducted shadow investigations on former employees.
As of now, the owners are not planning to formally discuss the Snyder matter. The next round of owners' meetings — set for next week in New York — does not have a Snyder item on the docket, Rob Maaddi of the Associated Press reports (on Twitter). While that obviously does not stop owners from addressing the Snyder situation privately, they are not preparing any votes yet. Part of the reason no vote is imminent: removing one owner opens the door to a future in which this drastic step could be taken against another, Armando Salguero of Outkick notes.
Counting Snyder scandals is difficult at this point. The one that produced the current circumstances came in 2021, when an NFL investigation into Washington's workplace culture led to Snyder being fined $10MM and ceding day-to-day control of his franchise to his wife Tanya. Despite last year's development being aimed at leading Snyder away from the team — a de facto suspension — Snyder denied he was suspended and has been around the team at points during his ensuing controversies.
The NFL changed course on a plan to have that investigation produce a written report, leading to the Oversight Committee's probe and the biggest set of problems to hit Snyder during his ownership tenure. Snyder recently attempted to again shift blame to former team president Bruce Allen, via an attorney letter to Committee chairwoman Carolyn B. Maloney, according to the Washington Post's Liz Clarke, Mark Maske and Nicki Jhabvala. The Committee deemed Snyder's previous attempts to paint Allen as the architect of a toxic workplace culture, partially by citing Allen's emails that ended up leading to Jon Gruden's Raiders exit, as scapegoating.
The Commanders denied the accuracy of ESPN's report, one that also invited questions about team president Jason Wright's true authority to go about repairing the team's culture. The Commanders' statement (via The Athletic's Ben Standig, on Twitter) called the report a "two-year misinformation campaign to coerce the sale of the team." Snyder will not accept being forced to sell, according to the report. The Snyder situation may look a bit different after recent NBA developments. After a lengthy investigation into Phoenix Suns and Phoenix Mercury owner Robert Sarver led to his suspension; Sarver has begun the process of selling his teams.
Washington, which made five Super Bowl appearances during a 20-year span from 1972-1991, has seen its status within the NFL nosedive under Snyder. The team has three 10-win seasons since Snyder's 1999 purchase and has yet to secure back-to-back playoff berths during this period.