As the investigations into Commanders owner Dan Snyder persist, some of his peers may be testing the waters about removing him from his post. Colts owner Jim Irsay floated that possibility at the owners' meetings Tuesday.
Irsay said there is merit to removing Snyder as the Washington owner and added "there potentially could be" 24 votes from ownership ranks to oust the embattled leader, via the Washington Post's Nicki Jhabvala (Twitter links). No NFL owner has ever been removed from his post via vote.
Irsay added no vote is likely to take place at this week's meetings but added that such a historic measure could occur once Mary Jo White's written report from this latest NFL investigation — one centered around Washington's alleged workplace misconduct and financial improprieties — emerges.
"I believe there is merit to removing him as owner of the [Commanders]," Irsay said. "There's consideration that he should be removed. … I just think that once owners talk among each other, they'll arrive to the right decision. My belief is that — unfortunately — that's the road we probably need to go down. And we just need to finish the investigation. But it's gravely concerning to me the things that have occurred there over the last 20 years."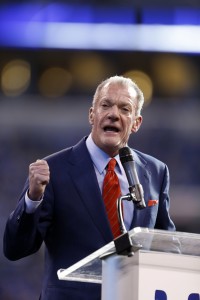 Irsay saying a Snyder removal is in play certainly suggests he is not alone in voicing support to boot the Commanders leader from his 23-year post — a tenure that has both reduced Washington's competitive standing and brought numerous scandals. Snyder, as he has done for years, is not considering selling the team. A Commanders statement, via NFL.com's Mike Garafolo (on Twitter), following Irsay's comments indicated as such.
Snyder is being investigated by the league and the House Oversight Committee. These investigations follow a previous NFL probe, which wrapped during the 2021 offseason and led to Snyder being fined $10MM and receiving what amounted to a de facto suspension. Snyder pushed back on the notion he was barred from day-to-day responsibilities with his franchise, and a recent report indicated he is back at work without restrictions.
The prospect of owners warming up to a Snyder removal vote has surfaced in a few recent reports, bringing this seminal topic to the forefront. Irsay's remarks, however, run counter to Jerry Jones' take on this matter. The Cowboys owner does not appear to view a Snyder ouster as a front-burner issue.
"No, I don't think that'll be something discussed today," Jones said, via USA Today's Jori Epstein (on Twitter). "That's more a media thing than it is an internal thing. … No, I don't think that'll be a highlighted item at all."
Jones' comments come after a bombshell ESPN report indicated Snyder was gathering dirt on a handful of NFL owners. That report also noted Snyder had "lost Jerry" regarding support. Contrary to that report, Ian Rapoport of NFL.com adds (video link) Jones still supports Snyder. Jones carries a great deal of weight among owners, so he certainly represents a vital ally for an owner who has lost support of select other owners.
Still, given Irsay's comments, last week's report appears to have moved the needle among ownership. Whether a Snyder vote happens in the near future or not, these past several days have brought the most smoke regarding his potential exit.
Follow @PFRumors