On this date in 2015, the Bengals released quarterback Terrelle Pryor. After four unremarkable years in the NFL, the move didn't mean much at the time. However, the release changed the trajectory of the former Ohio State star's career.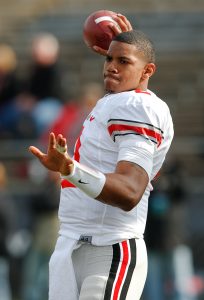 The late Al Davis brought Pryor into the league after selecting him in the third round of the 2011 supplemental draft. Pryor didn't play much in his first two seasons and struggled on the whole in 2013, although there were some impressive moments. Pryor was traded to the Seahawks in 2014, but was cut prior to Week 1 and wound up sitting out of football altogether that year. In January of 2015, the Chiefs signed Pryor, but released him in May. The Bengals scooped him up, but cut him from the roster five weeks later on June 18, 2015.
Clearly, Pryor's athleticism could not carry him at the quarterback position in the NFL, but he was reluctant to give up on his lifelong dream. Prior to signing with the Bengals, Pryor declared, "If I can't play quarterback, I can't play football." But, after his release from the Bengals, agent Drew Rosenhaus informed teams that Pryor was willing to line up as a wide receiver.
Ohio's other team – the Browns – moved quickly to claim Pryor off of waivers. Pryor didn't see much time on the field in that season, but things changed when the Browns shifted him to wide receiver prior to the 2016 offseason. The Browns were optimistic about what the 6'4″, 228-pound athlete could do at his new position, but few expected him to finish the season with 77 catches for 1,007 yards and four touchdowns.
Pryor parlayed his huge season into a one-year, $6MM free agent deal with the Redskins, but he was held back by an ankle injury and did little in D.C. He tried to regain his footing with the Jets last year, but injuries got the best of him once again. After his midseason release, his deal with the Bills amounted to nothing more than a cup of coffee.
Pryor resurfaced again in May when he signed a veteran's minimum contract with the Jaguars. The former quarterback could have an opportunity to stand out in Jacksonville's lackluster WR group, if he's healthy.
Photo courtesy of USA Today Sports Images.
Follow @PFRumors