On this date in 2003, one of the most underrated offensive linemen in the history of the game called it a career. Tackle Tony Boselli, the first ever draft pick of the Jaguars, retired at the age of 31.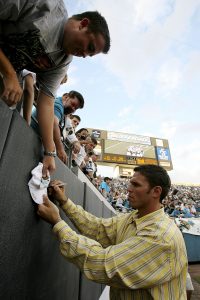 Soon after being drafted with the No. 2 pick in the 1995 draft, Boselli established himself as one of the best players in Jacksonville. He earned five consecutive Pro Bowl appearances from 1996-2000 with three First-Team All-Pro selections coming in 97-99. The Jaguars reached the postseason in four of their first five seasons in existence, and Boselli played a huge role in their success.
Unfortunately, injuries started to chip away at Boselli in 2001 and he appeared in only three games that season. In February 2002, the Jaguars made Boselli one of their five exposed players for the Texans' expansion draft. With the very first pick, Houston took on Boselli's $6.883MM cap figure, but they did not get the All-Pro they were expecting.
"I am retiring because of medical reasons, specifically my left shoulder, which did not continue to improve to the point where I could play," said Boselli as he announced his retirement.
Boselli's career was relatively short, but highly impactful. In seven seasons with the Jaguars, Boselli allowed only 15.5 sacks and cemented his legacy as one of the Jaguars' most important players of all-time.
Boselli signed a one-day deal to retire with the Jaguars in 2006 and became the first inductee into the team's Hall of Fame. Still, the football Hall of Fame eludes him. In 2019, Boselli was denied entry in his 13th year of eligibility and his third year as a finalist.
Photo courtesy of USA Today Sports Images.
Follow @PFRumors