Patriots wide receiver Antonio Brown has been accused of rape in a lawsuit filed Tuesday, reports Ben Shpigel of the New York Times.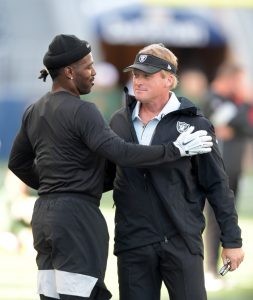 The woman accusing Brown is apparently his former trainer, according to the lawsuit, which alleges three separate sexual assaults from June of 2017 to May of 2018. Britney Taylor, the accuser, is a gymnast who says she met Brown when they both went to Central Michigan.
Shpigel writes that "first, he exposed himself and kissed her without her permission, the lawsuit says. Later that month, the lawsuit says, while she was watching a television program at his home, Brown started masturbating behind her and ejaculated on her back. Brown bragged about the incident in profane text messages that are copied in the lawsuit."
Those two incidents allegedly happened in June of 2017, and the lawsuit alleges that Brown then raped her in May of the following year. Nearly immediately after the story broke, Brown's lawyer Darren Heitner issued a statement on Twitter. In the statement, Heitner denies the allegations on behalf of Brown and says he "will pursue all legal remedies" to clear his name. Heitner does acknowledge that the two had a working relationship, and says they had consensual sex on at least one occasion. Brown's camp seems to be alleging that this is extortion by Taylor, saying she attempted to elicit $1.6MM from him, and that Brown views it as a "money grab."
You can view the full lawsuit at this link. Nick Underhill of The Athletic tweeted out some of the documents from the lawsuit that Shpigel references, which purport to be emails from Brown (warning: they're pretty vulgar). Per Shpigel, Taylor said she would cooperate with the NFL in a potential investigation from the league. "As a rape victim of Antonio Brown, deciding to speak out has been an incredibly difficult decision," Taylor said in a statement released by her lawyer. "I have found strength in my faith, my family, and from the accounts of other survivors of sexual assault."
Shortly after the news broke Vic Tafur of The Athletic, a Raiders beat writer, tweeted that "this was coming for a while." That would seem to suggest the allegations were known by at least some within the league before they came to light, although that's not entirely clear. It's also unknown as of right now whether or not the Patriots had any knowledge of the allegations before they signed Brown over the weekend.
Obviously, this threatens Brown's status moving forward with New England. It's far too early to jump to any conclusions, although it's safe to assume that the league will be conducting their own investigation. Brown was already facing a possible suspension for his blowup with Raiders GM Mike Mayock, and now could be looking at additional discipline.
Photo courtesy of USA Today Sports Images.
Follow @PFRumors