The Vikings and Stefon Diggs may be at odds with each other, but it seems that they've reached some sort of understanding. On Thursday, Diggs returned to practice, according to head coach Mike Zimmer.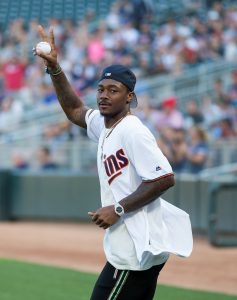 Diggs, who signed a five-year, $81MM extension with the team, reportedly has some beef with the team. The club, officially, said that Diggs was absent from practice for non-injury reasons. The buzz has been that it stems from his dissatisfaction with the club, though the exact cause of that rift is not quite clear.
In any event, Diggs seems ready to go for this weekend's game against the Giants. Assuming he plays, he'll try to help his club improve to 3-2 on the year.
"I want to be here. I love being here," Diggs said in 2018, before inking a whopping new deal with the Vikes. "I love being a part of the organization. They took a chance on me early on so I love it here as far as where we're at. … Hopefully, we can get some things done and we'll see how it goes."
Photo courtesy of USA Today Sports Images.
Follow @PFRumors