8:30pm: Despite Brown not being charged, he remains part of the Hollywood, Fla., police's investigation, Mark Maske of the Washington Post reports. Brown refused to speak with police officers, locking himself inside his home.
6:50pm: This investigation stems from a moving truck driver accusing Brown and trainer Glen Holt of battery, Wolfe reports. Holt was arrested on one count of burglary with battery. Brown is not in custody and has not been charged. The NFL is monitoring this situation, and Charles Robinson of Yahoo.com notes it will be folded into the league's ongoing investigation of the former All-Pro wide receiver (Twitter link).
3:40pm: More potential trouble for troubled free agent Antonio Brown. Florida police are investigating Brown for possible battery at his home on Tuesday, ESPN.com's Cameron Wolfe (on Twitter) hears.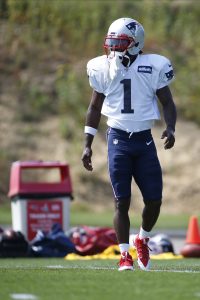 [RELATED: Raiders GM Mike Mayock On Antonio Brown]
Details are still trickling in, but as of this writing, Brown has not been arrested at his Hollywood, Florida home. Wolfe hears that it is not a domestic violence situation, though it is a possible battery that warranted police attention.
Brown has been out of the NFL since being dropped by the Patriots midway through the 2019 season, but he's been in the news at least twice per week, and the updates have hardly been positive. Most recently, Brown broadcasted a profanity-laced argument with police officers and the mother of one of his children. Soon after, longtime agent and ally Drew Rosenhaus dropped him and said that he would only resume the relationship if Brown made wholesale changes to his life.
Despite the erratic behavior towards the end of his Steelers tenure, the Raiders rolled the dice by trading for Brown and giving him a whopping new contract. At the time, it seemed like a savvy move to breathe life into the offense. Today, GM Mike Mayock wishes he could undo it all.
"I put that on me," Mayock said. "My anticipation was that he was coming off a situation in Pittsburgh where he wants to prove everybody wrong and he wants to ride into the Hall of Fame. That he was going to come in with Jon Gruden and Derek Carr and our offense and lead the way. … I really thought we were going to get the best out of Antonio Brown and we didn't."
Even after Brown's practice blowups and retirement threats, the Patriots were willing to gamble. They bailed, but for different reasons – Brown was accused of sexual assault by multiple women.
Talent tends to prevail in the NFL, but Brown has likely exhausted any chance of another opportunity. The Saints auditioned Brown late in the season, but opted to hold off and wait for the NFL's investigation to conclude. At this point, the league wants nothing to do with Brown, who once ranked as one of the game's brightest stars. Brown won't be cleared to play by 345 Park Ave. anytime soon, and even if Roger Goodell allows him back at some point, he could be categorized as untouchable by all 32 clubs.
Photo courtesy of USA Today Sports Images.
Follow @PFRumors