One of three key members of the Titans' offense set for free agency, Derrick Henry is coming off an all-time postseason performance. And he's looking to cash in from either the Titans or another team.
Henry made it clear he would prefer to stay in Tennessee but wants a top-market contract. During an appearance on the Rich Eisen Show, Henry said Ezekiel Elliott's number will be his floor (video link). Elliott signed a six-year, $90MM extension with the Cowboys last year. It remains the top running back contract.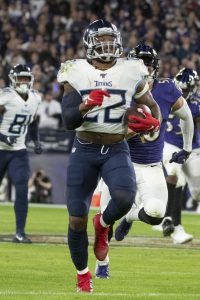 The bruising back did not say he is committed to testing the market, however. Henry would be fine with signing a major extension with the Titans before free agency opens March 18.
"I hope they prevent it from happening," Henry said of testing the market. "I love the state of Tennessee. We'll see what happens, though."
The Titans want to keep their 26-year-old impact back and are willing to use their franchise tag to make that happen. But fellow UFA-to-be Ryan Tannehill is also a tag candidate. Right tackle Jack Conklin is set for free agency as well. Teams can use their franchise and transition tags this year, unless a new CBA is finalized by the time the tag window opens Feb. 25. The running back franchise and transition tags are expected to come in around $10.4MM and $8.6MM, respectively. The ability to use both in the final year of a CBA may be crucial to the Titans retaining their quarterback and running back. As of December, Tennessee had not begun Henry extension talks.
This is a big target for Henry, even after the season he compiled. While the former Heisman winner won the rushing title and spearheaded the Titans to a surprising AFC championship game run with monster performances in wins over the Patriots and Ravens, his contract-year showing dwarfs his previous three years of work. Although DeMarco Murray took much of the workload from Henry in 2016-17, the former second-round pick was ineffective for much of the 2018 season before finishing strong. He is now coming off a 1,540-yard season that included 446 playoff rushing yards — the most by a player whose team did not qualify for a Super Bowl.
However, Henry's old-school style does not include much in the passing game. That's been essentially a prerequisite for the backs who have signed lucrative deals over the past two years. And the early returns from the new running back pay rate have not been promising. Excepting Elliott, the eight-figure-per-year deals for Todd Gurley, David Johnson and Le'Veon Bell have not rewarded teams. It will be difficult for Henry to top Elliott's $15MM-per-year pact, but Henry does bring immense value to the Titans' offense.
Photo courtesy of USA Today Sports Images.
Follow @PFRumors