Spoiler alert: the Titans want to keep Derrick Henry. The 2019 rushing champion has carried the Titans to this afternoon's AFC Championship Game, and if Tennessee should win and advance to the Super Bowl, Henry will be a big reason why.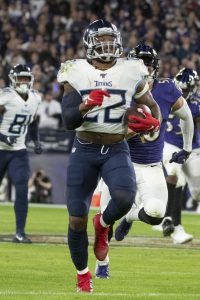 But the Alabama product is eligible for free agency in March, and we heard last month that the Titans had not had any internal discussions about a new deal for Henry. Since then, Henry has continued to dominate, and he piled up nearly 400 rushing yards in the team's two playoff wins over New England and Baltimore.
Per Ian Rapoport of NFL.com, the Titans want to keep Henry, and they are willing to use the franchise tag if necessary. Of course, the club also wants to retain Ryan Tannhill, so there are some major negotiations looming whenever Tennessee's season is over.
If the Titans cannot work out a long-term deal with either player by the time they are permitted to use the franchise or transition tag on February 25, they can use one tag on Henry and the other on Tannehill to buy themselves more time (provided that there is not a new labor agreement in place by that point). As Rapoport notes in a separate piece, Tannehill has cashed in on a number of his incentives this year and will pocket $10.25MM for his 2019 performance, though he will get a huge raise in 2020.
Given his ability to take over a game and his fairly light usage over his first two years in the league, Henry will doubtlessly be aiming for the top of the RB market. Tennessee — which entertained trade talks for Henry prior to the 2018 trade deadline — is open to a multi-year pact, but it may have to dole out at least $15MM per year and around $50MM or so in guarantees to get that done.
Photo courtesy of USA Today Sports Images.
Follow @PFRumors