Off the radar to be the 2020 No. 1 overall pick at this time last year, Joe Burrow is now widely expected to be Cincinnati-bound when Roger Goodell announces this year's first selection. Rumors of the LSU superstar being less than thrilled about that destination have circulated.
The reigning Heisman winner addressed a potential Bengals fit and stopped short of saying he would be happy to land with the Bengals.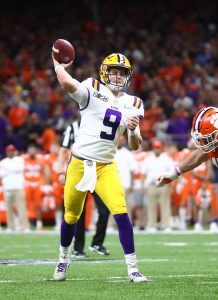 "They have their process that they have to go through, so I'm just blessed to be in the position that I'm in. If they select me, they select me," Burrow said, via the Fort Worth Star-Telegram's Drew Davison. "I'm going to do everything in my power to be the best football player that I can be."
When asked a follow-up question on whether he would be satisfied if the Bengals select him, Burrow did not respond in that fashion, Davison adds. This follows a comment Burrow made earlier this month that helped start the rumors that he may not be ecstatic about going to Cincinnati.
"You want to go No. 1. But you also want to go to a great organization that is committed to winning. Committed to winning Super Bowls," Burrow said.
Burrow has been training for the draft with ex-Bengal backup Jordan Palmer, the younger brother of Carson Palmer. The latter has not made his feelings about the Bengals' desire to win hidden. The Bengals have not won a playoff game since a 1990 wild-card win over the Oilers, and Carson Palmer's frustration with the franchise prompted a trade demand in 2011. While the Bengals recovered quickly without Palmer, their Andy Dalton years produced five straight opening-round playoff losses. Last season, the Bengals started numerous veterans but still finished 2-14. Though, they did lose some key players to injury.
The Dolphins have been linked to Burrow, and while they have the draft capital to move up from No. 5 to No. 1, the Bengals are not believed to be interested in moving down (barring a Ricky Williams-type offer). They are zeroing in on making the Ohio native-turned-national champion their next quarterback.
Photo courtesy of USA Today Sports Images.
Follow @PFRumors