On the cusp of his first turn through free agency, Panthers cornerback James Bradberry says he wouldn't mind reuniting with former head coach Ron Rivera.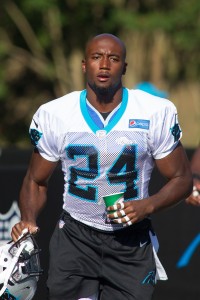 [RELATED: Redskins Meet With Greg Olsen]
"I would love to play for Coach Rivera again," Bradberry told NBC Sports. "He's a great man and a great coach. He coached me for four years. I didn't realize how much he meant to us until that day [he got fired]…Just how he spoke to us as men. He wasn't overly aggressive unless he needed to be. He put his foot down when he needed to be."
Of course, Bradberry added that he's looking to be paid what he's worth. For any team that signs him, that'll require a significant commitment – the former second-round pick has stifled some of the league's best receivers in Carolina, setting him up for a huge payday on the open market. In other words, if there's any "discount" to be had for Rivera & Co., it won't be a substantial one.
Meanwhile, Bradberry says that, ideally, he'd like to re-up with the only team he's ever known.
"Dream scenario, I would love to continue my career with the Carolina Panthers," he said. "I've been there for four years. One of my closest friends on the team, Shaq Thompson, he's still there. I would love to get to finish the rest of my career alongside him."
Thompson, a tenacious linebacker, inked a four-year, $54MM extension with the Panthers in December. That deal put him in the top five for all linebackers in the NFL, and Bradberry is also aiming for top placement at his position.
In 2019, Bradberry snagged three interceptions and registered 65 total tackles. The advanced metrics have never been too fond of his work, but Rivera is a fan, and a number of clubs will be interested in the 26-year-old (27 in August). He's also be a logical fit from a football perspective, especially if Rivera drops another old colleague in Josh Norman.
Photo courtesy of USA Today Sports Images.
Follow @PFRumors