One of the highest-profile quarterbacks to ever hit the free agent market will indeed survey his options. The Chargers and Philip Rivers are going their separate ways, and Rivers wants to continue his career. The 38-year-old passer is not considering retirement. However, he now has a retirement window in mind.
"I can say for certain that if I'm playing, it's a two-year maximum," Rivers said, via Sam Farmer of the Los Angeles Times. "Whoever the suitors are, I think that would be their hope as well. Because you never know how it goes. Shoot, if we stink it up after one year, I'm probably done. If we play really good, they'll probably want to go again."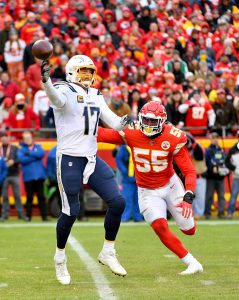 Rivers said last season he was open to playing elsewhere but was believed to be weighing retirement recently. But it looks like teams will have Rivers to consider this offseason, which may feature an unusual amount of quarterback movement.
The eight-time Pro Bowler did not play well last season, regressing considerably from a strong 2018 performance that ended with the Chargers winning 12 games and reaching the divisional round. But Rivers' 2019 work nearly got him benched for Tyrod Taylor in December. But Bolts GM Tom Telesco said the veteran was still capable of playing at a high level after the season; another team will have the chance to find out.
Rivers has started 224 straight games — second-most in NFL history by a quarterback — since taking over for Drew Brees in San Diego 14 years ago. A few teams figure to be interested in allowing him to extend that streak. The Buccaneers have been mentioned as a possible Rivers destination. He has since moved his family to north Florida. Rivers worked with Colts staffers Frank Reich and Nick Sirianni while with the Chargers and remains close to both coaches, per Albert Breer of SI.com. While Breer adds the Titans to the prospective suitor list, Rivers would prefer he land with a Super Bowl contender.
"Certainly you want a chance to win a championship, but it's not just about that," Rivers said, via Farmer. "If you told me right now, 'You're going to play for two years, and you're going to be good. But y'all will not win a Super Bowl. Will you still play?' Heck yeah, I'll still play."
"So it's not like it's a Super Bowl or nothing. But if it's a team where it's going to be tough sledding and they're two years away from even having a chance, and they led the league in most sacks given up or something, then it's, 'I don't think so, guys.'"
Photo courtesy of USA Today Sports Images.
Follow @PFRumors