Rob Gronkowski is ready to make his NFL return and he'll do it with Tom Brady as his quarterback. The Patriots have agreed to trade Gronk and a seventh-round pick to the Buccaneers in exchange for a fourth-round pick. The trade is still pending a physical, but all of the pieces are in place for Gronkowski to suit up in TB, with TB.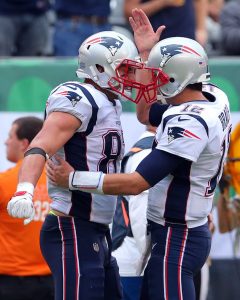 Gronkowski, soon to be 31, told the Patriots that he wanted to return to football – just not with them (Twitter link via Ian Rapoport of NFL.com). Rumors have swirled about the superstar tight end taking his talents to Tampa for months. Now, it's happening. Gronk will pick back up where he left off with one season and $10MM left on his deal. Gronk has a $9MM base salary due in 2020, with the other $1MM available through workout and roster bonuses.
Gronk has passed his physical and the deal is now official, per Adam Schefter of ESPN.com (via Twitter). Greg Auman of The Athletic tweets that the fourth-rounder Tampa is giving up is the No. 139 overall selection, which is a compensatory pick. The Bucs still have their own fourth-rounder, No. 117 overall.
Although Gronk spent his prime tied to a contract he expressed frequent dissatisfaction with, he plans to honor it in Tampa, agent Drew Rosenhaus notes (via Rapoport, on Twitter). This deal goes all the way back to 2012, when the Patriots agreed to a six-year, $54MM deal with a player who would become an all-time great. For the time being, Gronkowski will remain tethered to that contract.
The future Hall of Famer said this week he was not "totally done" with football. He's made a slew of "never say never"-type comments ever since his retirement, but this turned out to have legs.
Brady lobbied hard to have Gronkowski on the Bucs, per Rapoport, who adds Gronk has also been adding weight in preparation for an NFL return, Rapoport notes (on Twitter). The return-and-trade transaction is an unusual one, but it's not without precedent. Back in 2017, the Raiders and Seahawks agreed on a trade involving Marshawn Lynch, allowing the running back to return to the NFL with his hometown team after a one-year hiatus.
As Gronk made notable inroads in the WWE, the Patriots sorely missed their top weapon. Brady struggled for much of last season, and the Patriots did not come close to filling the void the four-time All-Pro created when he retired over a year ago. It's a fascinating deal, because the Patriots obviously need Gronkowski more than a Bucs team that rosters O.J. Howard and Cameron Brate does.
Gronkowski has dealt with numerous injuries throughout his career, with back trouble limiting him late in his Patriots tenure. But the Bucs are now set to pair Pro Bowlers Mike Evans and Chris Godwin with the most dominant tight end of this generation. Even if Gronk has ceded that belt to either Travis Kelce or George Kittle, he still stands to be a difference-making presence for a Bucs team that has now added the highest- and second-highest-profile members of the second leg of the Patriot dynasty.
A Gronk-Howard-Brate setup would seem untenable, with Brate also signed for $6.8MM per year. One year remains on Howard's rookie deal, though he can be controlled through 2021 via the fifth-year option. Another trade should be expected, one that would stand to help the Bucs add a draft pick to make up for the one they're losing by acquiring Gronkowski. Even before this, there were rumblings of Howard being available.
The Patriots still do not feature much at tight end, but they have engaged in Gronk trade talks previously. They were close to dealing him to the Lions two years ago, but Gronkowski nixed it by indicating he'd retire instead of going to Detroit. With Brady now a Buccaneer, Gronk OK'd a deal to the NFC this time around.
The Bucs said no to a Brady-Antonio Brown partnership, but they have green-lit a Brady-Gronk reunion. Either way, this figures to generate immense publicity for a team that has not made the playoffs since 2007. Conversely, with no surefire Brady successor in place and Gronk now on another team, the Patriots feature major questions for the first time in decades.
Photo courtesy of USA Today Sports Images.
Follow @PFRumors