Been busy? Let's get you caught up with a look back at some of the NFL's biggest stories from the past week:
Chiefs' Chris Jones Threatening Holdout?: Chris Jones wants a multi-year deal worth at least $20MM/season. If he doesn't get it, he says he "won't play." The two sides have until July 15th to hammer out an extension. Otherwise, they'll have to table talks until next year. If Jones follows through on his threat, he'll give up more than $16MM for the 2020 season and lose out on a year of credit towards free agency.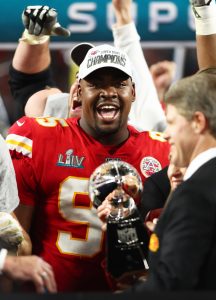 NFL To Cut Preseason Schedule In Half: After 86'ing the Hall of Fame Game, the NFL has moved to cut the preseason in half. Instead of the standard four-game slate, teams will now play a two-game exhibition schedule. Rather than cancelling Weeks 1 and 2, the league will drop Weeks 1 and 4, giving players extra time to prepare before the start of the regular season. The revamped preseason schedule is expected to be released in the coming days.
NFL Cancels Supplemental Draft: The NFL held its annual draft remotely in April, so it was a surprise to see the supplemental draft – which is always held remotely – cancelled. Players who would have been eligible for the second-chance draft will have to wait until 2021 to join the pros.
Antonio Brown Interested In Seahawks Deal: Antonio Brown would love to play with the Seahawks and workout partner Russell Wilson. And, for what it's worth, the Seahawks are considering AB internally. The Buccaneers and Ravens, meanwhile, will pass.
Redskins Expected To Change Name: For years, Redskins owner Dan Snyder has resisted calls for the team to change its name. Now, it sounds like change could be on the way, and it could happen soon. Under pressure from sponsor FedEx, Snyder says he'll work in concert with head coach Ron Rivera and others to conduct a "thorough review" of the matter. Meanwhile, sources tell the Washington Post that they expect the process to end with a new name and a new mascot.
Photo courtesy of USA Today Sports Images.
Follow @PFRumors