George Paton is the Broncos' new GM, and he's got his work cut out for him during his first offseason at the helm. Several big decisions loom, including what to do with Von Miller and at quarterback. Speaking to the media Thursday, Paton got into all that and more.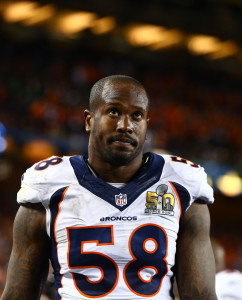 We've heard that the Broncos are preparing to franchise tag safety Justin Simmons for the second year in a row, but it sounds like they really want to get an extension done. "Justin is one of our core guys. Our goal is to sign him to a long-term deal," Paton said, via a tweet from Troy Renck of ABC Denver 7. Simmons seems to be on the same page, reiterating in a recent interview with Sirius XM NFL radio (Twitter link) that he wants to be with the Broncos for the future. "It seems like Denver wants me back, and I want to be there," Simmons said in part.
As for Miller, he's got an option that guarantees him significant money that needs to be picked up by March 16th. We've heard the team wants him to take a bit of a pay-cut to return in 2021, and Paton said that he's still working through the details of the option with his agent. "We want to bring Von back. Obviously the legal process, it's a serious situation. I don't know all the details. But respect what's going on. But we do want Von back." Paton was referring of course to the legal investigation that stems from allegations made by his ex-fiancee. Even with that looming, it sounds like Paton wants to keep the franchise icon in the fold if the financials can work.
Phillip Lindsay is a restricted free agent since he's a former UDFA, and Paton said the team wants him back as well. "Phillip's a good player, very passionate. Obviously had some injuries last year. He's a good player, brings energy, brings juice. He's a restricted free agent, we do plan on tendering him. I'm not sure what level but we want Phillip here," he said, via Mike Klis of Denver 9 News (Twitter link).
Meanwhile, Klis writes that fellow restricted free agent receiver Tim Patrick is expected to get a second-round tender from the Broncos. That would pay him around $3.4MM in 2021. Patrick is coming off a career year where he had 746 yards and six touchdowns. If the team decides $3.4MM is too steep for Lindsay as a split-time running back, they'd tender him at the original-round level, which would mean a team signing him to an offer sheet wouldn't have to give up any draft pick.
Finally, Paton also talked about the elephant in the room, Drew Lock and his job security. "Obviously did a deep dive with Drew. Very talented, was inconsistent at times. Has a lot to work on. I've spoken with Drew, he's here every day. He's here early. He really wants to be great," Paton said, before adding "we're always going to try and bring in competition at every position and quarterback as well. But I like the track that Drew is on," Klis tweets.
Those certainly don't sound like the words of someone who's committed to Lock as his 2021 starter. Things are up in the air, but we should continue to expect Denver to sniff around potential upgrades while having Lock as the fall-back option if nothing falls into their laps.
Follow @PFRumors