May 2: The Jaguars' TE depth chart is very thin. The club just drafted Luke Farrell in the fifth round, but he is viewed as more of a blocking-first type of player. As Mike Florio of Pro Football Talk writes, Meyer conceded that he is concerned about the state of the position.
"There's some great quality, quantity wasn't there in the draft this year, and that's a concern right now," he said. "That's a concern right now. . . . We just didn't hit that today."
That might be good news for Tebow. Meyer said he did not stay for the entirety of Tebow's recent workout, but he did say that the team will explore the possibility of signing Tebow in the near future.
Apr. 29: Off the NFL radar for years, Tim Tebow has resurfaced with his former college coach. The Jaguars worked out the former quarterback recently, Ian Rapoport of NFL.com tweets.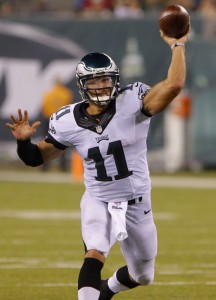 Tebow, however, worked out as a tight end, according to Rapoport. Inaccurate as a passer, Tebow resisted previous overtures to move to another position. Having ended his baseball run earlier this year, the 33-year-old TV analyst appears to have changed his mind on playing tight end. The former Broncos first-round pick requested to work out at the position, according to ESPN.com's Adam Schefter (on Twitter).
This does not appear to be a case of Urban Meyer offering a courtesy workout to his former Heisman-winning Florida Gators superstar; the sides have discussed a deal, Rapoport adds. This would certainly be a major development, despite Tebow's lengthy NFL absence. Tebow worked as a three-year starter for Meyer at Florida and played a key role as a freshman. The pair won two national championships together.
It is worth wondering how viable Tebow's path back to the league is. He has not played a regular-season game since 2012, when he worked as a Jets backup. The popular southpaw passer caught on with the Patriots and Eagles in subsequent offseasons but could not land game-day gigs with either. Tebow spent the past few years in the New York Mets' farm system. The quarterback-turned-outfielder showed considerable progress, considering he had not played baseball competitively since high school, and logged nearly 300 Triple-A at-bats in 2019. He fell just short of the majors. For what it's worth, the Mets listed the 6-foot-3 Tebow at a tight end-capable 245 pounds.
The Jags have needed help at tight end for a while now. While Tebow would be a flier at best, it is not like the team is set at this position. Jacksonville should be expected to add a tight end at least by the middle rounds this week.
Photo courtesy of USA Today Sports Images.
Follow @PFRumors