Considering the jersey sales and Jacksonville's proximity to where Tim Tebow starred in high school and college, he might already be the most popular tight end in Jaguars history. Marcedes Lewis was obviously far more accomplished and made 12 Jaguars rosters. Will Tebow end up making one?
The Jags have a noticeable hole at tight end; this issue has persisted for several years. Lewis' run of 400-plus-yard seasons stopped after the 2012 campaign, and the Jags gave Julius Thomas a big-ticket deal in 2015 to provide a better receiving option. That did not end up working out, and the franchise has not featured much of note at the position since it traded Thomas in 2017. Its current tight end group consists of veterans James O'Shaughnessy and Chris Manhertz and recent Day 3 picks Tyler Davis (2020, Round 6) and Luke Farrell (2021, Round 5). Among those who were pros in 2020, O'Shaughnessy's 262 receiving yards — a career-high mark — led the way.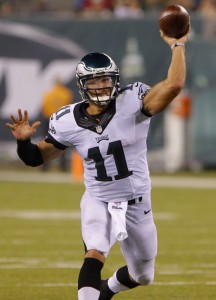 Of course, Tebow's profile does not point to him providing a remedy for the Jags' tight end issues. But the former Heisman winner, playoff starting quarterback and minor league outfielder generates considerable discussion and has throughout his time in the spotlight. Urban Meyer has both expressed concern for his tight end group and lauded Tebow's leadership qualities.
Although he spent time with the Eagles and Patriots through the summer of 2015, Tebow has not played in a regular-season game since 2012 with the Jets. Should Tebow return to a game that counts in 2021, he would be only the fourth NFLer since the merger to return to the league after at least eight seasons away. Doug Flutie was the only player to do so without the 1987 players' strike factoring into the equation; both the others — ex-Broncos offensive lineman David Diaz-Infante and former Chiefs QB Tony Adams — were replacement players in 1987.
Given Meyer and Tebow's history, the recent Mets farmhand lasting beyond the summer probably should not be considered a shocking proposition. The Jags did not guarantee any of Tebow's one-year, $920K contract, however, and the former Broncos first-round pick has never caught a pass in an NFL game. Tebow reportedly impressed Jags coaches at his new position during his workout and displayed ball-carrying chops at Florida and as a Bronco (660 rushing yards, six TDs in 2011). And the Jags do not have a host of roster locks at this position.
Should Tebow be released ahead of roster cutdown day, he would be eligible for Jacksonville's practice squad. As strange as it would seem, given Tebow's age (34 in August), a developmental/roster insurance role would make sense — if the Jags view him as a viable tight end, of course. This path may be amenable to Tebow, who spent multiple seasons with much younger teammates as part of the Mets' minor league system. Practice squads increased from 10 to 16 players last year, but barring another change, the CBA calls for 12-man taxi squads in 2021.
On a slow weekend, weigh in with your view of Tebow's comeback. Will he end up sticking with the Jags in 2021, or will his No. 85 jersey end up a collector's item like Jerry Rice's No. 19 with the Broncos?
Photo courtesy of USA Today Sports Images.
Follow @PFRumors