When the Jets were struggling last year, general manager Joe Douglas was quick to sell off veterans for future picks. While the 2021 version of the team sits at only 1-5, it doesn't sound like the Jets are planning on selling again this year. While head coach Robert Saleh wasn't around last season, he told reporters today that he isn't anticipating a fire sale, per Connor Hughes of The Athletic (via Twitter).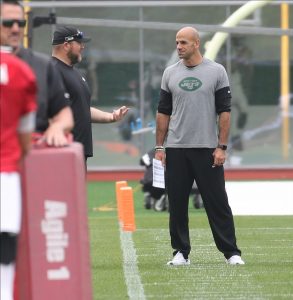 "If it's something that will help us, great," Saleh said (via Al Iannazzone of Newsday.com). "If it's not, great. We'll stay pat. Forcing things is not Joe's forte. He's very deliberate. He communicates with us all the time. I love the way he goes about his business. I love his process. I'm with Joe."
The Jets have the youngest roster in the NFL, so it's not like the team has a surplus of veterans that they could sell off for future pieces. Last year, the team traded the likes of Steve McLendon, Avery Williamson, and Jordan Willis, but we're unlikely to see a repeat in 2021.
"If it's something that's going to help us awesome," Saleh said. "But I also know we're not looking for a fire sale either."
While Marcus Maye previously made sense as a trade candidate (considering the contentious negotiations this summer), the safety said that he hasn't requested a trade out of New York. Following Zach Wilson's injury, the Jets actually made a move to add to their roster earlier this week when they acquired Joe Flacco from the Eagles.
Photo courtesy of USA Today Sports Images.
Follow @PFRumors