Six years ago today, the Tom Coughlin era in New York came to an end. On January 4th, 2016, we learned that the Giants and their Super Bowl-winning head coach were parting ways.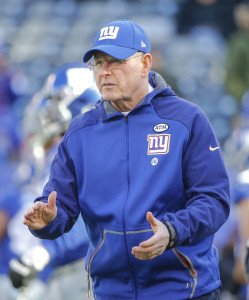 Following a relatively successful stint as the Jaguars head coach, Coughlin joined the Giants in 2004. During his first five season at the helm, the Giants won 47 regular season games, made four postseason appearances, and won a Super Bowl. After dropping to 8-8 in 2009, they rebounded with 10 wins in 2010 before earning another ring in 2011. At that point of time, it seemed inconceivable that the organization would let go of their head coach.
However, after falling to 9-7 in 2012, the Giants failed to finish above .500 between 2013 and 2015, averaging 6.33 wins per season during that three-year span. Following a 6-10 2015 campaign that featured a handful of miserable losses, the writing was clearly on the wall. There were whispers that the Giants were prepared to move on from Coughlin, but naturally, the organization allowed the successful coach to save face. So, on this date six years ago, Coughlin announced that he was stepping down from his position after the two sides decided to part ways.
"I met with John Mara and Steve Tisch this afternoon, and I informed them that it is in the best interest of the organization that I step down as head coach," Coughlin said in a statement. "I strongly believe the time is right for me and my family, and as I said, the Giants organization.
"It has been an honor and a privilege to serve as head coach of the New York Football Giants. This is a not a sad occasion for me. I have spent 15 years with this organization as an assistant and head coach and was fortunate to be part of three Super Bowl winning teams. A Lombardi Trophy every five years is an achievement in which we all take great pride."
And like that, the then-third-longest-tenured head coach in the NFL was out in New York. While Coughlin seemed to hint at wanting time away from the game, he was immediately connected to a number of coaching gigs. At different points, Coughlin was connected to HC jobs with the Eagles (a job that he reportedly could have had), 49ers, and the Jaguars. Jacksonville quickly pivoted their focus and pursued Coughlin as a top executive … a position he eventually accepted. In 2017, Coughlin was hired as the Jaguars new Executive Vice President of Football Operations, a role that required him to oversee the front office (including GM Dave Caldwell). While the former coach didn't technically have any executive experience, he essentially acted as the Jaguars' general manager during his first stint with the organization.
Things went great during Coughlin's first season back in Jacksonville, as the Jaguars reached the AFC Championship for the first time since Coughlin was head coach. After Jacksonville won 10 regular season games during that 2017 run, they only managed to win 11 games over the next two seasons. Off the field, matters were worse. Players were fined hundreds of thousands of dollars during offseasons (leading to the NFLPA winning a grievance against the organization), and the old-school leader was the driving force behind Jalen Ramsey's decision to request a trade. Further, Coughlin was criticized for his handling of the quarterback position; while he wasn't with the organization when the Jaguars selected Blake Bortles, he authorized the QB's three-year, $54MM extension. Further, among Coughlin's 21 draft picks, only two made Pro Bowls, and he also selected RB Leonard Fournette with his first draft selection (No. 4 in 2017, ahead of Patrick Mahomes and Deshaun Watson, no less).
Coughlin was ultimately canned by the Jaguars at the end of that 2019 campaign. When he was fired, ESPN.com's Chris Mortensen said "there is plenty of football left in Tom Coughlin." We haven't heard much from the 75-year-old since that time, and it remains to be seen whether his name will be tossed around for any HC vacancies this offseason. Speaking of, in the six seasons since Coughlin left New York, the Giants have shuffled through three head coaches, with Joe Judge currently on the hot seat. Interesting…
Follow @PFRumors