While many analysts don't predict a running back to go in the first round of the 2022 NFL Draft, Iowa State's Breece Hall has perhaps the best chance of any to do so. Hall has been making the rounds during the pre-draft process, according to NFL Network's Ian Rapoport, spending time with the Texans, Bills, Giants, and Commanders.
Hall and Michigan State running back Kenneth Walker are the consensus top-two running back prospects in the Draft, with Texas A&M's Isaiah Spiller usually coming in as a slightly distant third. Most analysts have Walker and Hall extremely close, as well, with Dane Brugler of The Athletic ranking Walker at 35th and Hall at 41st and Daniel Jeremiah of NFL Network slotting Hall at 29th and Walker at 31st. The two differ a bit in body-type and playing styles with Walker being a stockier, more compact back with speed and power, whereas Hall is a big-bodied back with a smooth, elusive running style.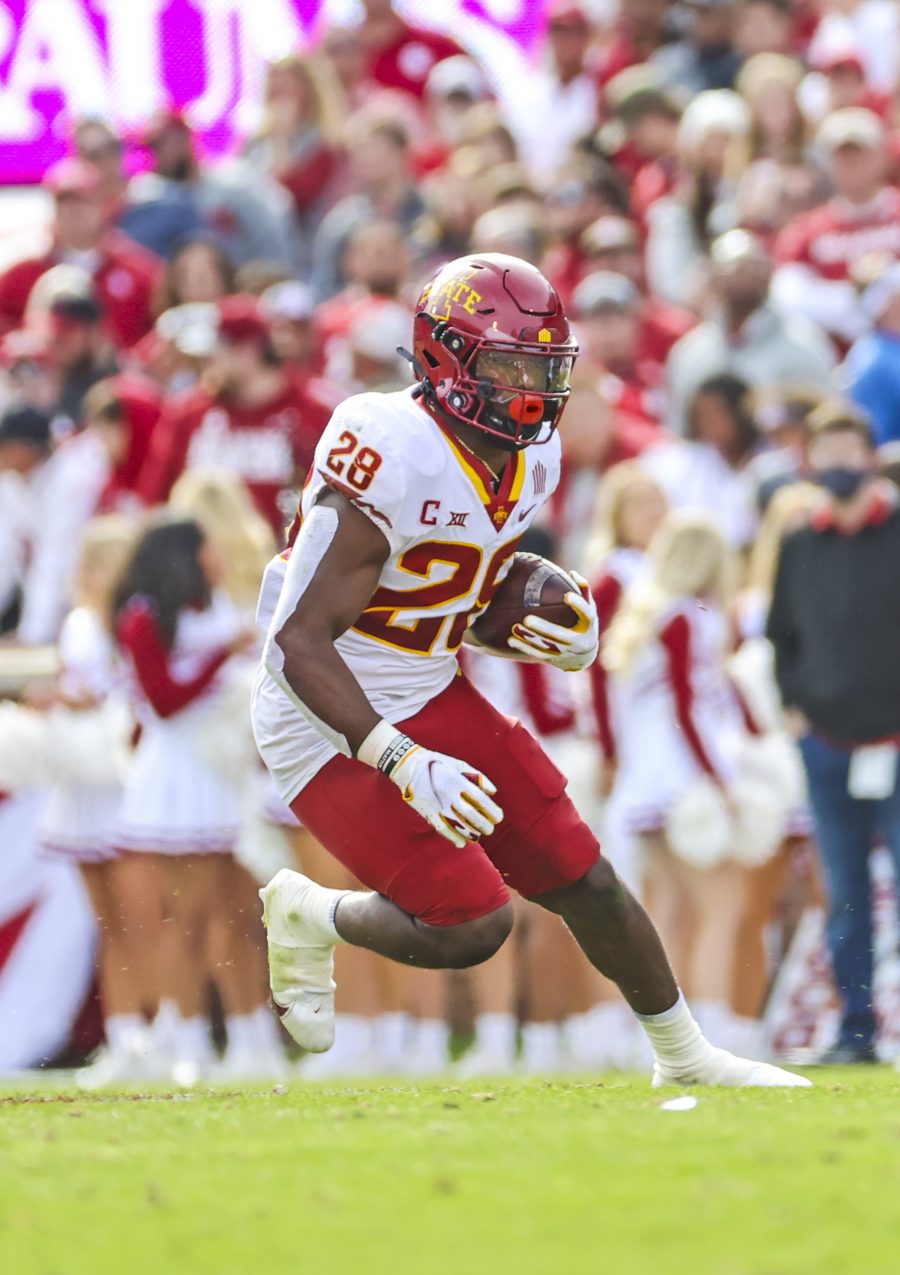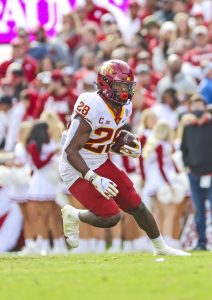 In terms of depth chart, the Bills, Giants, and Commanders all have, at least, a semi-solid two-deep. The Commanders return Antonio Gibson and J.D. McKissic. Both have had some issues with health, but, for the most part, should be a reliable 1-2 punch. The Giants have Saquon Barkley and recently acquired Matt Breida. Breida hasn't quite looked the same since leaving San Francisco and New York might be losing patience with Barkley as his name surfaced as a potential trade candidate last month. The Bills house Devin Singletary and Zack Moss. They also recently signed Duke Johnson, who will be a huge contributor in the passing game. While both Singletary and Moss have been solid in their roles, neither have been game changers with Singletary failing to top 900 yards in each of his three seasons and Moss's career-high topping out at 481 yards. Both are smaller backs, as well, which might make Hall an attractive option.
The Texans probably have the biggest need here. They currently are rostering Marlon Mack, Royce Freeman, Rex Burkhead, Dare Ogunbowale, Darius Anderson, and Scottie Phillips. Mack is probably the favorite to lead the group in touches with Freeman spelling him and Burkhead a potential pass-catching back, but by no means should this be considered a strong position group.
In terms of draft position, a few options make sense here. The Giants and Texans aren't likely to use any of their multiple early first-round picks on a running back, but both have early picks in the second round, as well, that might have Hall's name written all over it. If any team were going to use a first-round pick on a running back, I could see the Bills sitting at 25 as a real option. A more likely scenario would probably see the Bills allowing a team to trade back into the first round and hoping to still land Hall in the second. The Commanders would benefit from seeing the running backs fall down the board a bit, as their second-round pick doesn't come up until 47th overall.
It's a bit of a crap-shoot to try and predict how the NFL will value a top college running back in any given year. Last year saw Najee Harris and Travis Etienne go back-to-back in the first round. The year before that saw Clyde Edwards-Helaire taken with the final pick of the first round. Though teams are often advised against it, you'd have to go back to the 2014 NFL Draft to find the last time no running backs were taken in the first round, when Bishop Sankey and Jeremy Hill were taken back-to-back in the second round, followed closely by Carlos Hyde.
Will Hall or Walker be able to keep the streak alive? Or will we see the streak of first-round running backs end at 7 years? Both players will have eight more days to make their case.
Follow @PFRumors