Tied to a below-market extension at a position that appears underpaid relative to the value its top talents provide, Darren Waller is playing on one of the NFL's most team-friendly contracts. Going into his age-30 season, the Raiders tight end is running short on time to cash in.
The veteran pass catcher confirmed his agent and the Raiders have discussed this contract — a four-year, $29.8MM deal signed in 2019 — this offseason. Following David Njoku's four-year, $56.75MM deal, Waller's status was bound to come up. Because of contracts handed out to Njoku and other less accomplished tight ends this offseason, Waller now resides as the NFL's 17th-highest-paid tight end. He is due nonguaranteed base salaries of $6.25MM in 2022 and '23.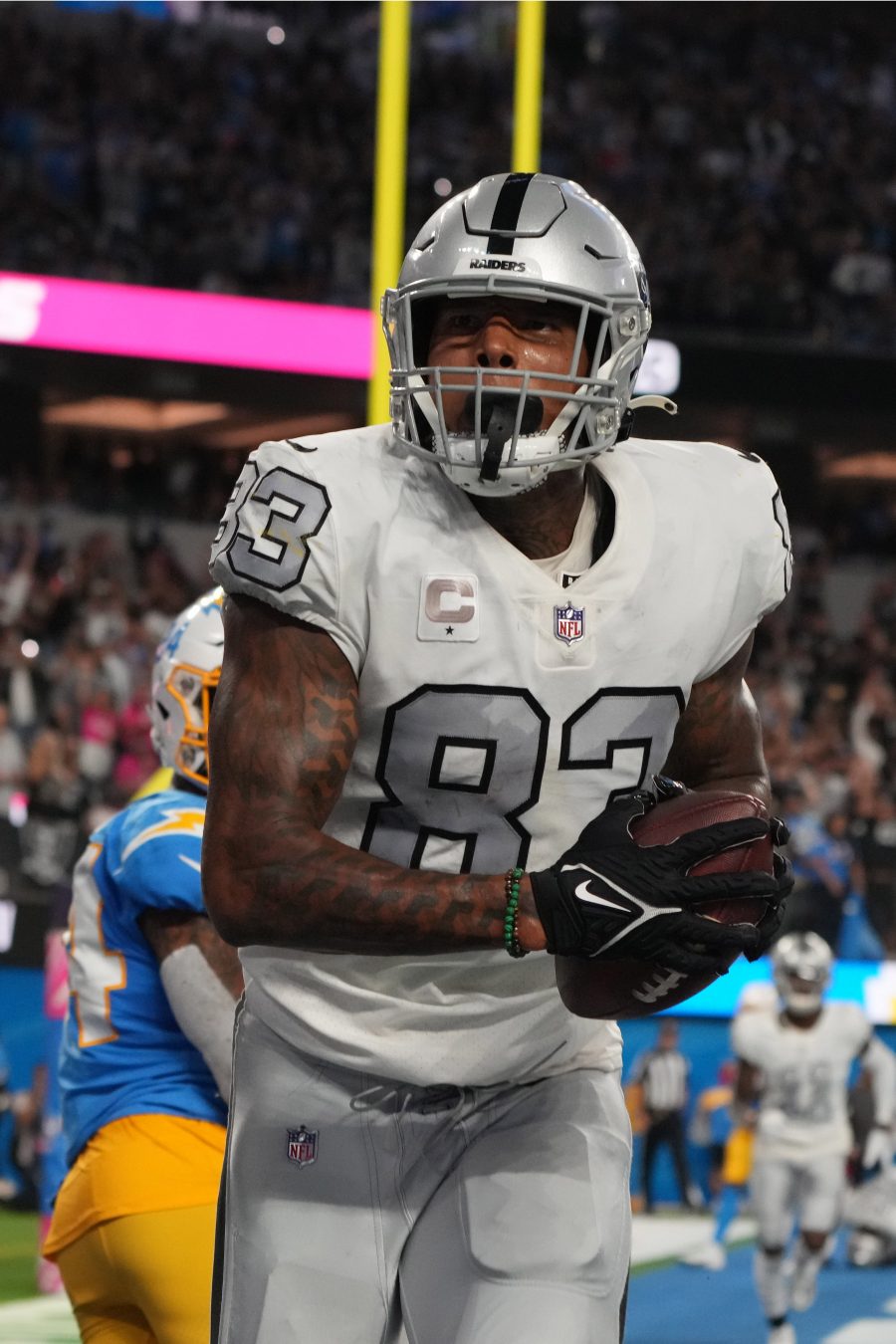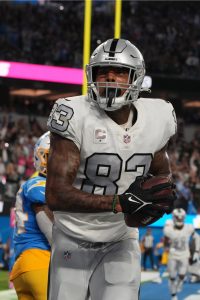 "My agent is working on that," Waller said during an appearance on the Ross Tucker Podcast (via Charean Williams of Pro Football Talk). "I understand it, but I know if I focus on it too much, it could take away from my job and learning a new system and just continuing to try to elevate and take care of my body in the right way. I try to focus on those things and let my agent handle that. When decisions need to be made, decisions need to be made."
The Raiders possess the leverage of having Waller under contract for two more years. They just gave Davante Adams a monster extension and have Hunter Renfrow entering a contract year. At 26, Renfrow is three years younger than Waller. But tight ends with Waller's pass-catching pedigree are a rarer commodity than effective slot receivers. Waller is one of only eight tight ends in NFL history to have compiled two 1,100-yard years. Current tight end salary kingpin George Kittle is not even on that list.
That said, Josh McDaniels has contributed plenty to Renfrow's position, seeing Wes Welker turn into an All-Pro and Julian Edelman grow into a quality receiver-turned-Super Bowl MVP under his watch. This might not be an either/or situation between Waller and Renfrow, but considering Adams' contract and Derek Carr now attached to a short-term deal averaging $40.1MM annually, a Waller-or-Renfrow scenario is a situation to monitor.
Waller has said the right things and has not made this a major issue. He shot down a trade rumor in April, but a report at that time indicated the Raiders are likely a year away from addressing Waller's deal. That may be too much for Waller to stomach. Although the midcareer breakout player is coming off an 11-game season, he has been the Raiders' aerial centerpiece since 2019, when the former Baltimore wide receiver's belated Oakland emergence helped a passing game reeling from the Antonio Brown fiasco.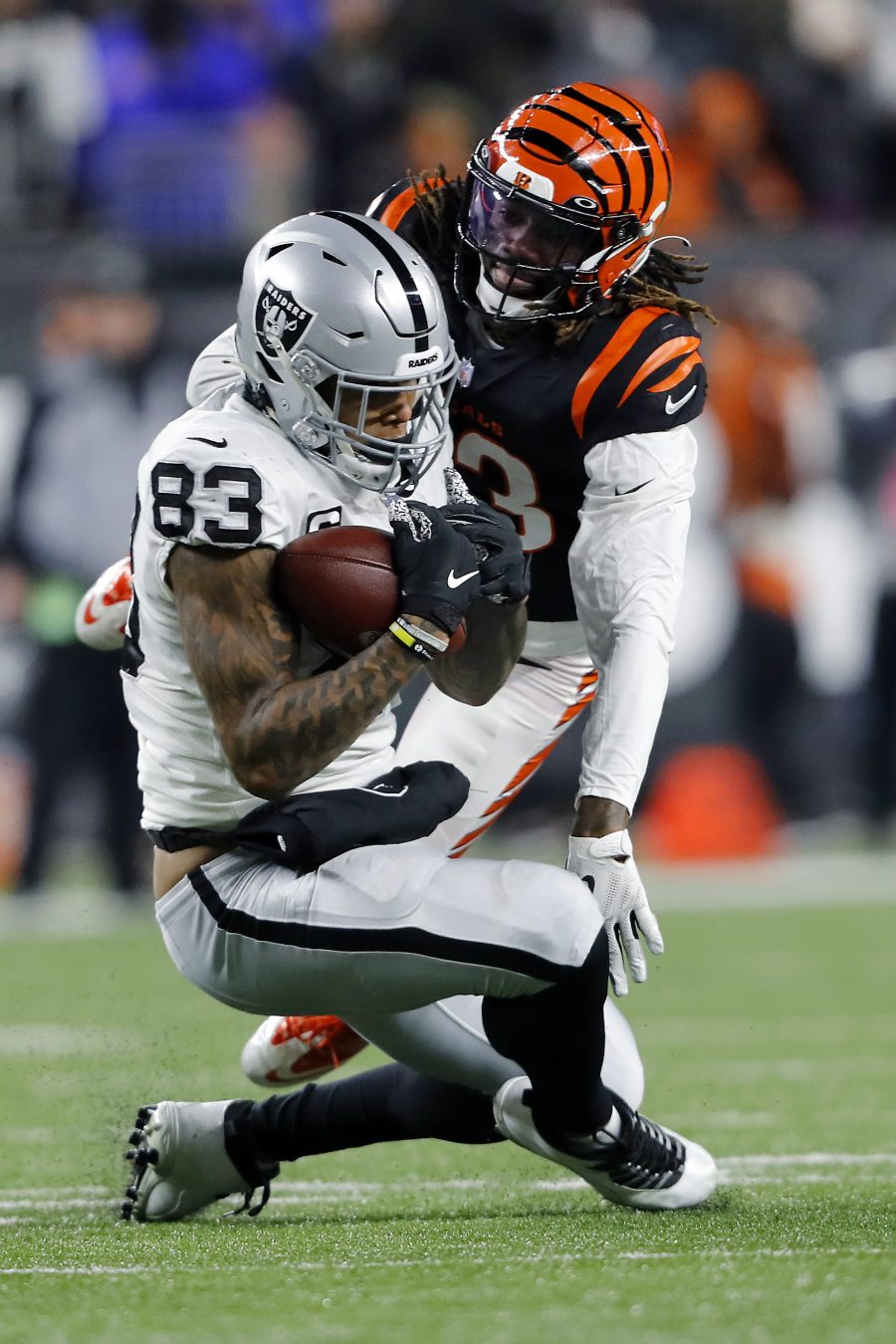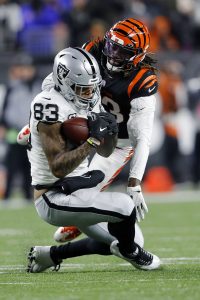 Players like Will Dissly and C.J. Uzomah, both inking $8MM-per-year deals, each surpassed Waller in AAV this offseason. Njoku's deal — a $14.2MM pact making the unproven Browns talent the league's fourth-highest-paid tight end — may have a more notable effect. Njoku has just one 500-yard season in five years. Waller has lapped that production, topping Njoku's best year even during his 2021 injury-limited campaign. Not unlike Sammy Watkins' 2018 deal or Christian Kirk's free agency accord this year, the Njoku contract could have a notable effect on the tight end market. How the Cowboys and Dolphins proceed with their respective franchise-tagged tight ends, Dalton Schultz and Mike Gesicki (one 800-yard season between them), stands to affect Waller's status as well.
The Raiders' Adams extension, which preceded the Dolphins' $30MM-AAV Tyreek Hill deal, created a massive gulf between the highest-paid wideouts and Kittle's $15MM-per-year tight end topper. That strange imbalance adds to the value the Raiders have in Waller, who signed his deal at a time when the Patriots' wildly team-friendly Rob Gronkowski contract (six years, $54MM) limited other tight ends' earning power. Rostering Adams while extending Renfrow and keeping Waller on this contract would represent the ideal 2022 Raiders route; that would surely not sit well with their Pro Bowl tight end.
Even at 29, Waller can command a deal in the Kittle ballpark. Were Waller a free agent in March, teams likely would have submitted position-record offers. If the Raiders attempt to move extension talks to 2023, that would hurt the Georgia Tech alum's value, since he would be negotiating ahead of an age-31 season. Waller has moved past the substance-abuse issues that plagued him with the Ravens, and while the Jon Gruden regime did well to extend the comeback story early, the tight end market's shift will almost certainly make this contract an issue soon.
The current CBA makes training camp holdouts difficult to wage. Minicamp represents the next chapter here, though no indications have emerged Waller will stay away. Staging a hold-in similar to T.J. Watt's maneuver last year is an option; it would be interesting to see how the Raiders' new regime handles that. A Waller trade would obviously hurt the Raiders' chances to compete in a stacked AFC West. The Patriots included incentives to appease Gronk late in his New England tenure; would that be enough for Waller in 2022? However this plays out, the situation should produce more headlines before Week 1.
Follow @PFRumors