The end of the 2021 season left a bad taste in the mouths of the Cowboys and their fans, but one bright spot was the play of backup running back Tony Pollard. The 25-year-old should see more playing time in 2022, but not just in the backfield.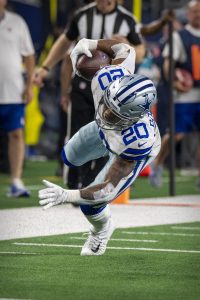 Calvin Watkins of the Dallas Morning News details that Pollard is in line to spend time as a slot receiver this season, in an effort to maximize his skillset. He was a factor in the passing game during each of his first two seasons in Dallas, totalling 60 targets during that span. As he did in every other category, though, he increased his productivity in that department in 2021, with 39 catches for 337 yards.
Those totals – along with his 5.5 yards-per-carry average and effectiveness as a kick returner – require the Cowboys to find ways to put him on the field. As Watkins makes clear, however, doing so will not come at the expense of Ezekiel Elliott's workload. The former No. 4 overall pick still has five years remaining on his contract, and will look to rebound from a disappointing end to 2021, which was hampered by a knee injury.
Even if Elliott does remain a workhorse back, Pollard should still be able to receive close to the 169 total touches he had last season, if not more. In the absence of Amari Cooper, CeeDee Lamb should be in line to operate more on the outside in 2022, along with Michael Gallup (when healthy). That would leave snaps available for the Memphis alum in the slot.
Watkins names Alvin Kamara and Christian McCaffrey as comparable backs to the usage Pollard may receive this season, albeit on a much smaller scale. While it remains "doubtful" the latter receives a contract in the vicinity of the one Dallas gave Elliott, Pollard would of course help his free agent value with a repeat of last season's performance, as 2022 is the final year of his rookie contract. His remarks on the prospect of a hybrid role show his willingness to embrace an increased workload.
"I'm open to anything just being on the field, being able to make the most of my opportunities" he said. "If I have to line up in the slot a little more, whatever it takes, I'm ready to do it."
Follow @PFRumors