This year marks the final season Justin Herbert must play on a rookie contract. That gives the Chargers both a significant roster-building advantage while also raising the stakes for this season. Through two years, Herbert has displayed future MVP-caliber talent. But the Chargers have little to show for it, having gone 16-17 over the past two years. The organization is clearly making a point to capitalize on Herbert's rookie deal. Major upgrades, mostly on defense, give the Bolts — frequent providers of letdowns after preseason hype — far more appeal as a true contender than they have been in recent years.
The Chargers have often carried quality quarterbacks, rostering Hall of Famer Dan Fouts, Canton-bound Drew Brees and potential inductee Philip Rivers over the past 40 years. The team has one Super Bowl appearance to show for this (and it came during Stan Humphries' stint). Last year's Pro Bowl starter, Herbert is on the Fouts-Brees-Rivers stardom track. Herbert's first two seasons not only dwarf that trio's starts but compare favorably to just about any quarterback in league history. While the 24-year-old QB has plenty of time to push for Super Bowls, 2022 does look like a key point on his timeline — due to the rookie-contract component. In a deep AFC, will the Bolts' upgrade efforts pay off?
Trades:
Tom Telesco's team struck early, making a pre-free agency trade for one of Brandon Staley's most talented ex-charges. The Bears sent the Raiders a package highlighted by two first-round picks for Mack in 2018; the price the Bolts paid revealed the league's current view of the veteran edge rusher. But the Chargers provide Mack with a unique bounce-back opportunity, with he and Joey Bosa poised to be one of the most talented edge defender duos in modern NFL history.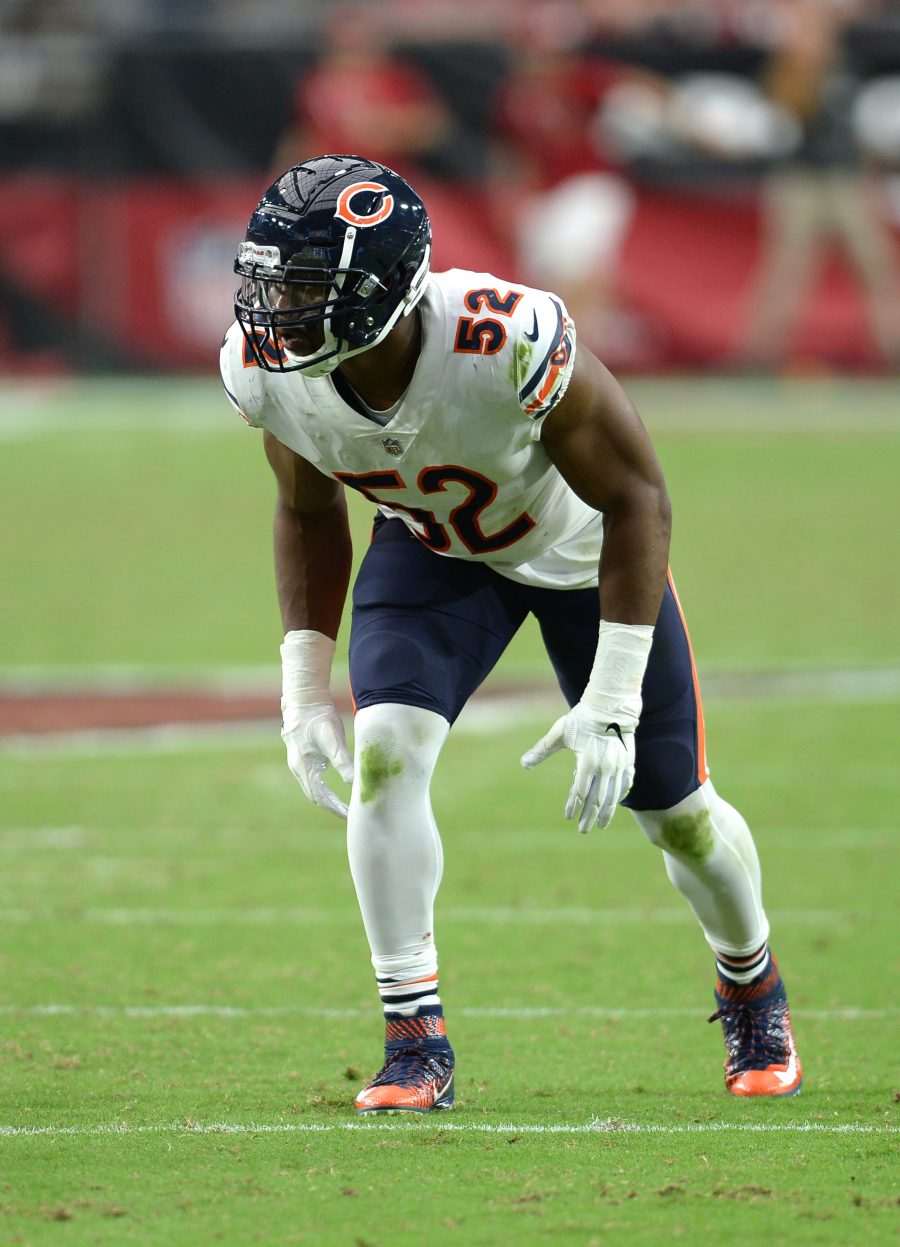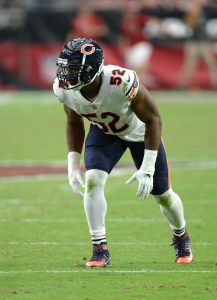 Mack and Bosa carry 10 Pro Bowls between them, despite the former top-five picks respectively going into their age-31 and age-27 seasons. Although Mack is coming off a foot injury that ended his fourth Chicago season after seven games, he earned All-Pro or Pro Bowl recognition in his previous six healthy seasons. Mack, who recorded six sacks in his abbreviated 2021 slate, checked in as this year's ninth-best edge rusher — per various NFL evaluators (via ESPN.com). Bosa sits fourth on that list. The age ranges and accomplishments here remind of the Broncos' mid-2010s Von Miller–DeMarcus Ware tandem. Like Ware, Mack settling in as a complementary pass rusher will be quite different compared to his previous roles.
Mack staying healthy would provide a major upgrade on Uchenna Nwosu, who signed with the Seahawks. Mack's Bears-constructed deal runs through 2024. The Bears restructured Mack's contract multiple times, leading to a sizable dead-money hit for the rebuilding franchise. Bosa on a $27MM-per-year deal and Mack on a $23.5MM-AAV accord does push the Bolts into new territory, but these are the kind of moves teams can make when equipped with a rookie-contract quarterback. Mack's cap hit spikes from $8.75MM this year to $27.4MM in 2023, but if his reunion with Staley — his Bears position coach in 2018 — does not go as planned, the Chargers can get out of the contract with minimal damage next year.
Notable signings:
Staley's renegade fourth-down strategies overshadowed the Charger defense's lackluster performance in the young coach's debut. Mostly healthy seasons from Bosa and Derwin James barely kept Staley's unit out of last place; the Bolts' defense ranked 29th in points allowed and 26th in DVOA. Telesco's March additions, understandably, went mostly toward this side of the ball.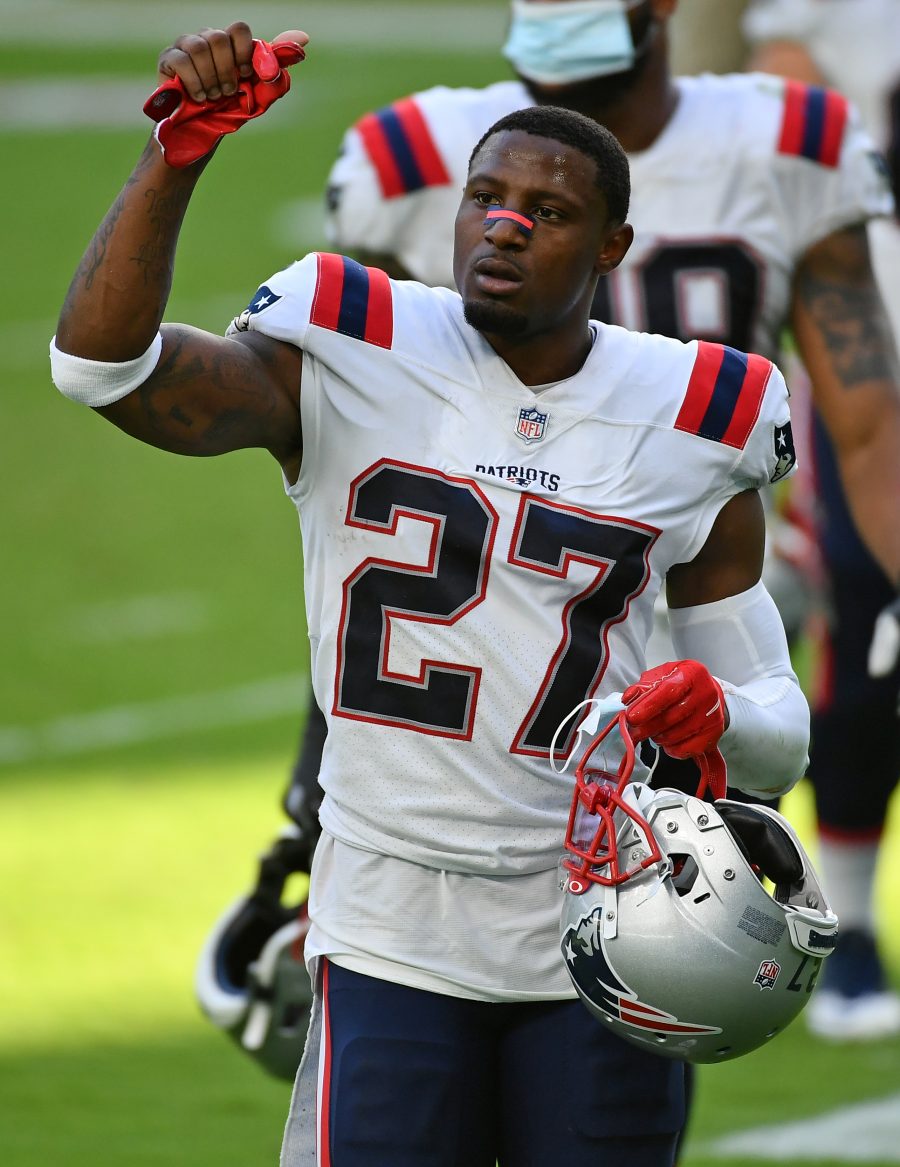 After moving up from UDFA to elite turnover producer in New England, Jackson escaped the franchise tag this year. Best known for his turnover frequency (25 career interceptions), Jackson allowed quarterbacks to sub-50 passer ratings as the closest defender in coverage in three of his four Patriots seasons. Jackson's work over the past two years helped the Pats compensate for Stephon Gilmore's unavailability and eventual departure.
Bill Belichick made an exception for Gilmore, signing him to a high-end deal in 2017, but continued to let corners walk rather than commit long-term. Darrelle Revis (2015), Logan Ryan (2017), Malcolm Butler (2018), Gilmore (2021) and Jackson have all departed New England. The Chargers will hope Staley and DC Renaldo Hill can continue to coax Pro Bowl-level play from their big-ticket signing. Jackson, 26, signed for an AAV outside the top five at the position ($16.5MM). Following the Denzel Ward and Jaire Alexander deals, that figure now ranks ninth among corners. It took a $28MM Year 1 payment to entice Jackson to head to Los Angeles.
Jackson will team with Asante Samuel Jr. and either Michael Davis or Callahan. Despite re-signing Davis on a three-year, $25MM deal ($15MM guaranteed), the Chargers may not run him back as a starter in 2022. The team added Callahan after the draft. A Jackson-Samuel-Callahan trio will be in play for the Bolts, which would strangely minimize an $8.4MM-per-year player. But Davis also could force the team to keep him in the lineup, with a possible Samuel shift to the slot. That would threaten Callahan's status, but at this point in the veteran slot defender's career, he is a flier. The 30-year-old cover man missed 28 games during his three-year Broncos tenure, including all 16 contests during Staley's 2019 Denver stopover. While well-regarded, as shown through Pro Football Focus top-10 grades for his 2018 and '20 work, Callahan is running out of chances. Entering training camp, three of the Chargers' top four corners are UDFAs.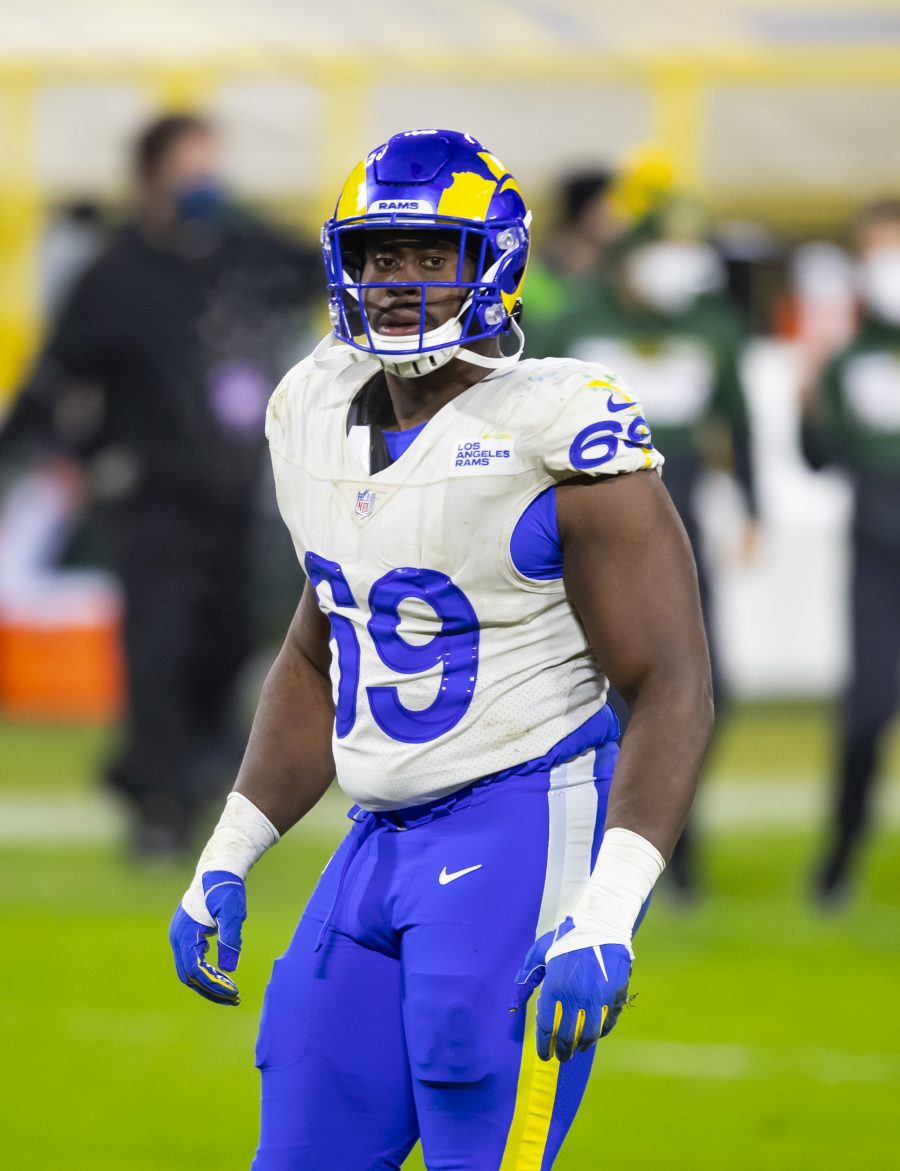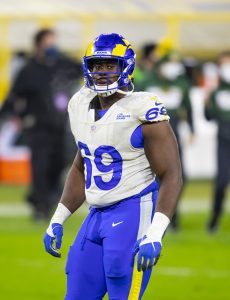 Unreliability against the run burned Staley's defense throughout 2021, with Rex Burkhead's career day in Week 16 and Josh Jacobs' 132-yard night in the Bolts' marathon elimination game providing the biggest stings. Joseph-Day and Johnson's combined $25MM-plus in guarantees reflect the Chargers' commitment to addressing this issue. PFF graded Johnson as a plus run defender in 2019 and '20, while Joseph-Day was the bigger priority. The early signee graded as one of the NFL's best run-defending D-tackles in his most recent healthy season (2020). A 2018 sixth-rounder, Joseph-Day was a 16-game starter during Staley's 2020 Rams flyby.
The Bolts are planning to use Van Noy in a Pats-esque capacity, shifting him between their edge and off-ball linebacker spots. Van Noy as a third rusher loads Los Angeles up with experience here. The Super Bowl starter registered 25.5 sacks over the past five seasons, accomplishing this despite lining up in non-rush positions far more than most pass rushers. Among linebackers to reach 25 sacks since 2017, Van Noy's 356 tackles led the way by a wide margin. The Chargers only received five sacks from edge starter Nwosu last season. Van Noy as a No. 3 provides Staley and Co. with interesting capabilities.
Everett will replace Jared Cook, giving Herbert a younger target but one that has also battled inconsistency. Everett's next 500-yard receiving season will be his first. That said, the former second-round pick worked alongside Tyler Higbee during his Rams stay and played in a run-first Seahawks offense. Set to pair Everett with 6-foot-8 Donald Parham, the Chargers are counting on the former NFC West starter to be a dependable tertiary cog in his age-28 season.
Notable losses:
White's defection to the Eagles could become an issue. The converted safety led Chargers linebackers in snaps (979) by more than 300 last season. White broke through with 144-tackle, two-forced fumble, two-INT contract year. That was out of step with White's prior contributions, but the Chargers' defense is not exactly in position to lose front-seven producers — especially on its second level.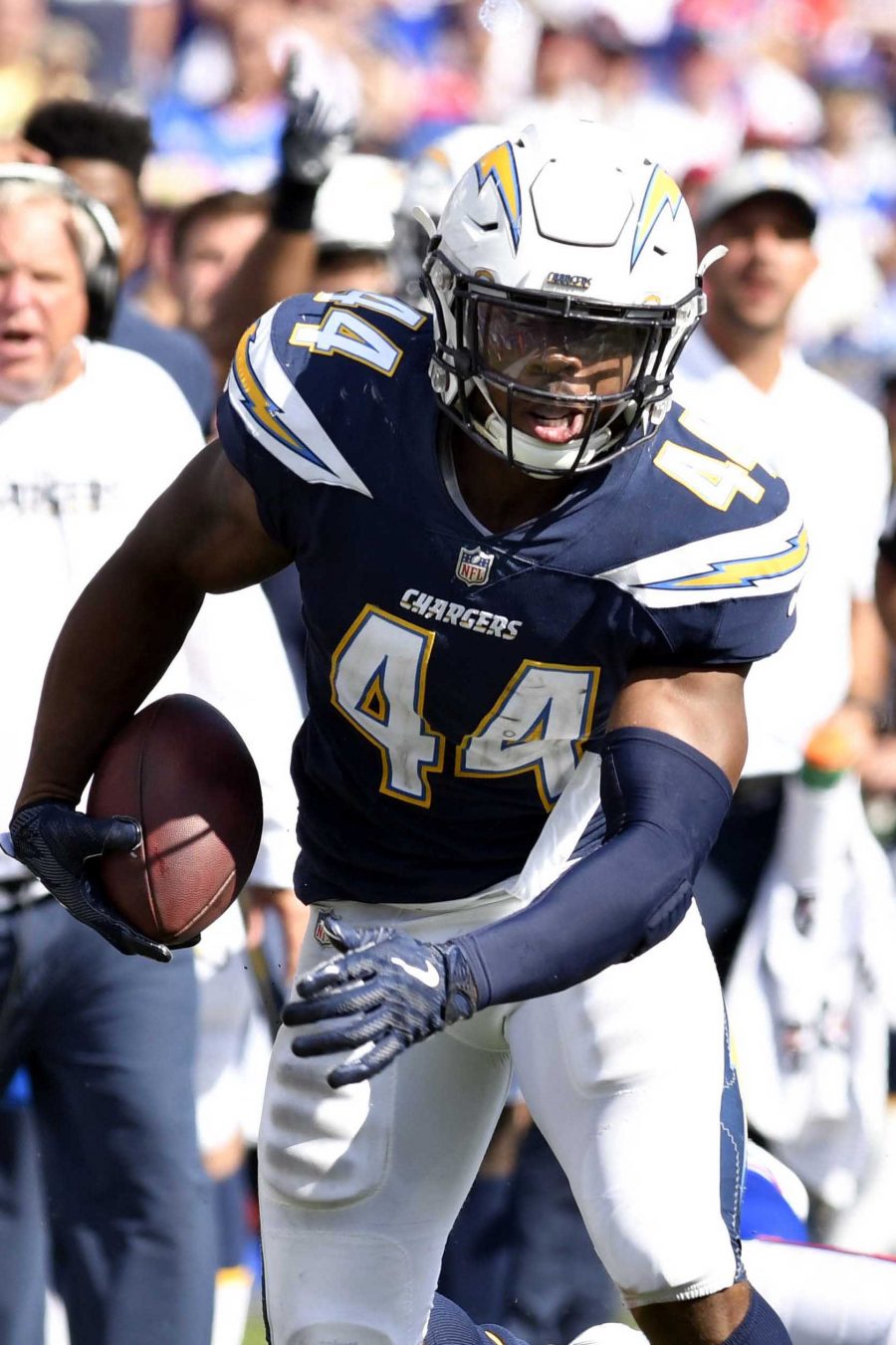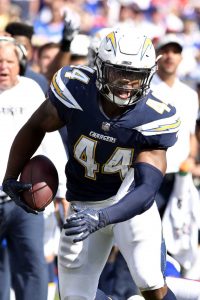 Some depth exists here, with Van Noy and Reeder around to aid a group housing returners Kenneth Murray and Drue Tranquill, but this represents the position to which the Bolts allocated the fewest offseason resources. Murray, who played only 364 defensive snaps last season, graded as one of PFF's bottom-five linebackers in 2021. The former first-round pick needs to come closer to living up to the investment, because this position group is rife with late-round picks or veteran stopgaps.
Bulaga's exit gave the Chargers $10.7MM in cap space. The former Packer blocker did not work out in L.A., with the injury trouble he dealt with in Green Bay following him west. Bulaga missed 16 games last season, thrusting Storm Norton into the right tackle post. By far the biggest uncertainty among Bolts blockers going into camp, Norton will battle Trey Pipkins for the right tackle gig. The Chargers are higher on Pipkins than they were a year ago, after the former third-round pick impressed in two spot starts. The loser here represents decent swing depth, but the team could also look at free agent options.
Riley Reiff headlines a list of available right tackles. With Norton struggling in 2021, Pipkins' progression could determine if the Chargers look to add a plug-and-play vet. That would be in stride with several other Bolts moves this offseason. Ex-Panthers and Bills starter Daryl Williams and former Bears and Broncos first-stringer Bobby Massie would seemingly be upgrades, should Pipkins not resemble a capable starter in camp.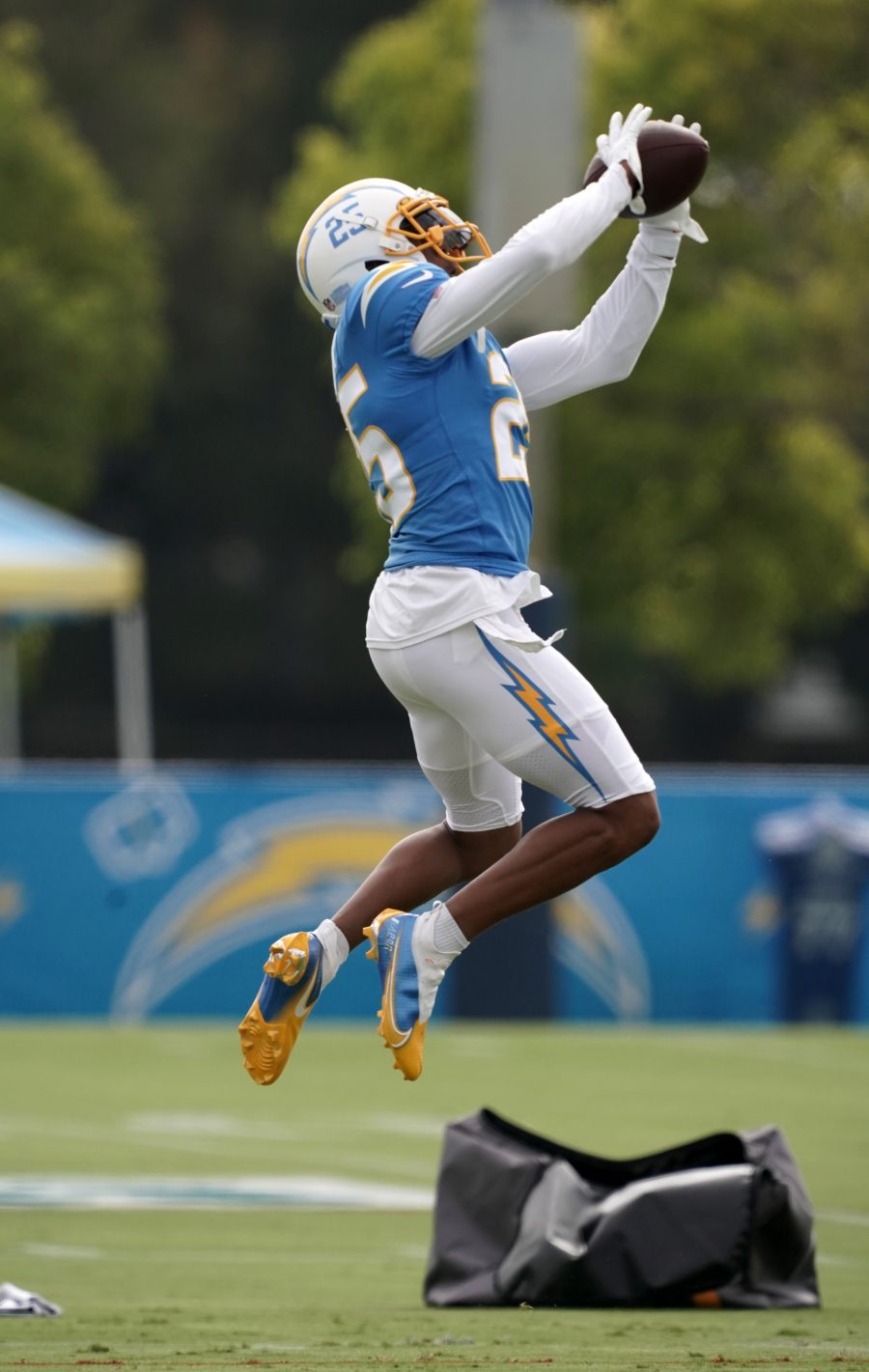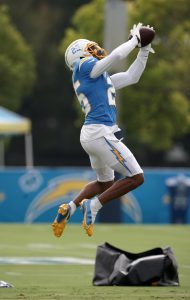 Taking over for Melvin Ingram, Nwosu enjoyed moments as a productive edge and ranked as a top-35 pressure producer (30) at the position in 2021. That ranked ahead of the likes of Frank Clark and Josh Allen. Running it back with Nwosu on a midlevel deal similar to the one he signed in Seattle (two years, $20MM; $10.5MM guaranteed) would have made sense, but the team did not pass on the chance to form a Bosa-Mack tandem.
Cook has now been a regular starter for six teams, placing him in rare NFL company. But 2022 would be the former Titans, Rams, Packers, Raiders and Saints starter's age-35 season. Although Cook compiled 504 receiving yards in 2021, he ranked in the top 30 in drop percentage. Aboushi joins Cook as a six-team starter, but an early-season injury interrupted his chance at a Chargers first-string job.
Having made a case as the best slot corner in NFL history, Harris was not quite on Broncos-era level during his two-year Chargers contract. The All-Decade defender could probably still help a team as a pure slot option, but Callahan — who succeeded Harris as the Broncos' primary slot option — is two years younger than the 33-year-old vet. Harris joined Joseph, also 33, and Jones in being swapped out this offseason. The Chargers gave Joseph, a 2020 Vikings cap casualty, a two-year deal in the same offseason in which they added Harris. PFF rated both Joseph and Jones as midlevel D-tackles last season, but the team's commitments to Joseph-Day and Johnson illustrated a desire for change.
Draft picks:
The Chargers struggled to assemble reliable offensive lines during Rivers' final years, and they did not give Herbert a strong unit in 2020. The team has operated with purpose over the past two offseasons to fix that. Johnson is set to be the Chargers' starting right guard; he will be the fourth O-line starter the Bolts have acquired since 2021. The team gave Corey Linsley a then-center-record deal in March 2021, signing Matt Feiler to a three-year, $21MM pact soon after. These moves preceded the first-round selection of left tackle Rashawn Slater, who made the Pro Bowl as a starter last season.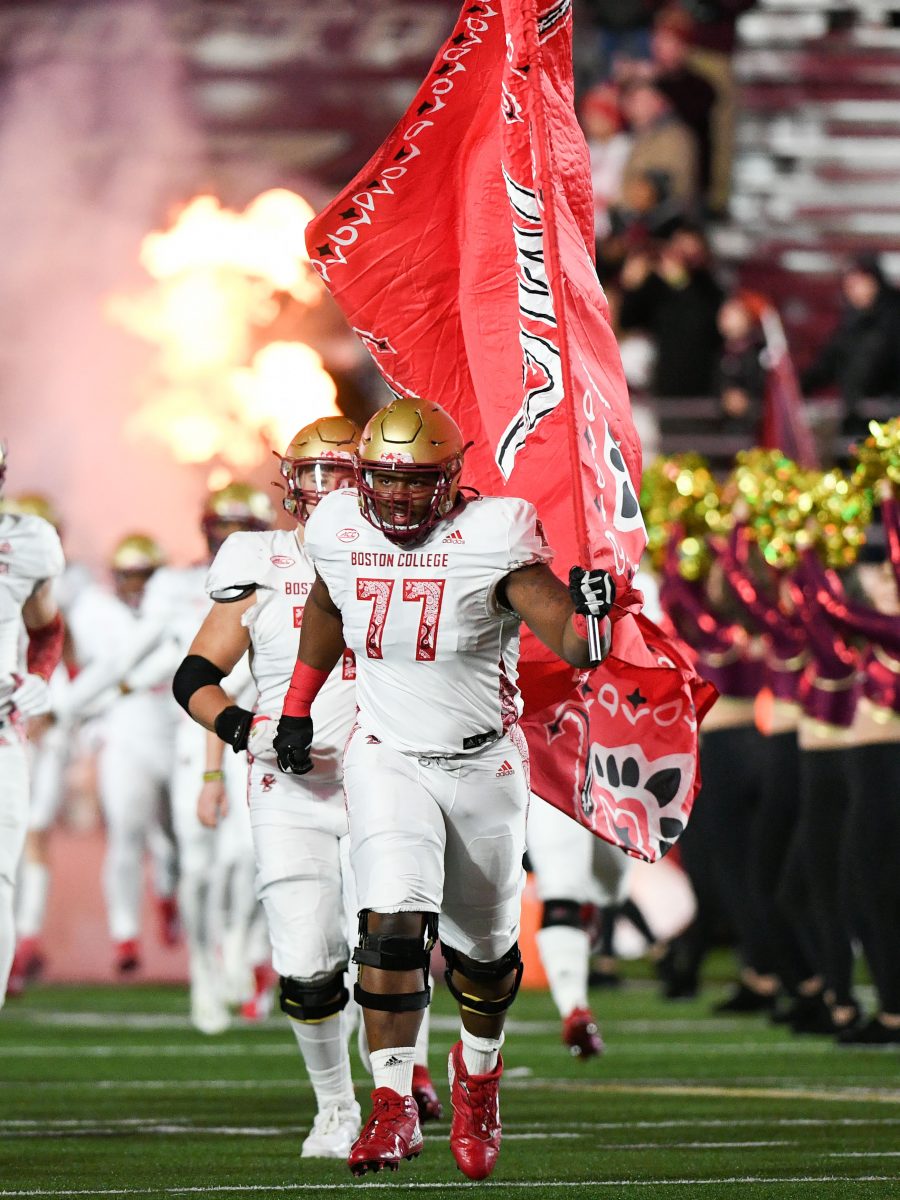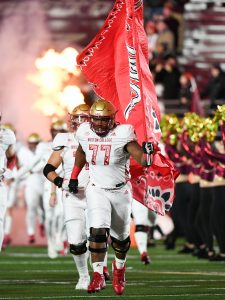 Compared to recent years, the Feiler-Johnson pair marks a greater commitment to the guard position for the Chargers. After the Orlando Franklin–D.J. Fluker pairing proved short-lived, the Chargers used stopgaps like Schofield, Trai Turner and Kenny Wiggins (or underwhelming Day 2 choices like Dan Feeney and Forrest Lamp) at these positions. A former Super Bowl starter at right tackle, Schofield ended up being needed extensively at guard. He made 49 starts as a Charger from 2017-21.
After spending two years at Davidson, Johnson transferred to Boston College. He blocked for four 1,000-yard rushers while at the two schools, most notably A.J. Dillon's 1,645-yard season with the ACC program in 2019. Boston College stationed Johnson at left tackle during the 2020 season, and he earned first-team All-American honors at guard last year, joining 2022 first-round guard Kenyon Green (Texans), tackle Ikem Ekwonu (Panthers) and center Tyler Linderbaum (Ravens) on the Associated Press' top team.
Sitting out the second round due to the Mack trade, the Bolts added Woods to join a safety corps featuring a few significant investments. The team has ex-first-rounder Derwin James poised to sign an extension, one that may require the team topping Minkah Fitzpatrick's new market-setting pact to complete, and former second-rounder Nasir Adderley going into his contract year. A James extension may prompt the Chargers to pass on re-signing Adderley, which could make the Woods pick noteworthy come 2023. James' injury issues also point to depth being a priority here.
Extensions and restructures:
Timing benefited the Chargers here. Although the team waited until after the franchise tag window closed to extend Williams, it did so 10 days before the Raiders changed the wide receiver market. Davante Adams' extension led to Tyreek Hill leaving the AFC West and A.J. Brown leaving the AFC South. Hill said Adams' deal changed his Chiefs negotiations. Other teams are now debating on how to proceed in the new marketplace. This makes Telesco's hammering out Williams' new deal when he did rather pivotal. Williams became just the fifth $20MM-per-year wideout when he signed the deal; that list now stands at 11.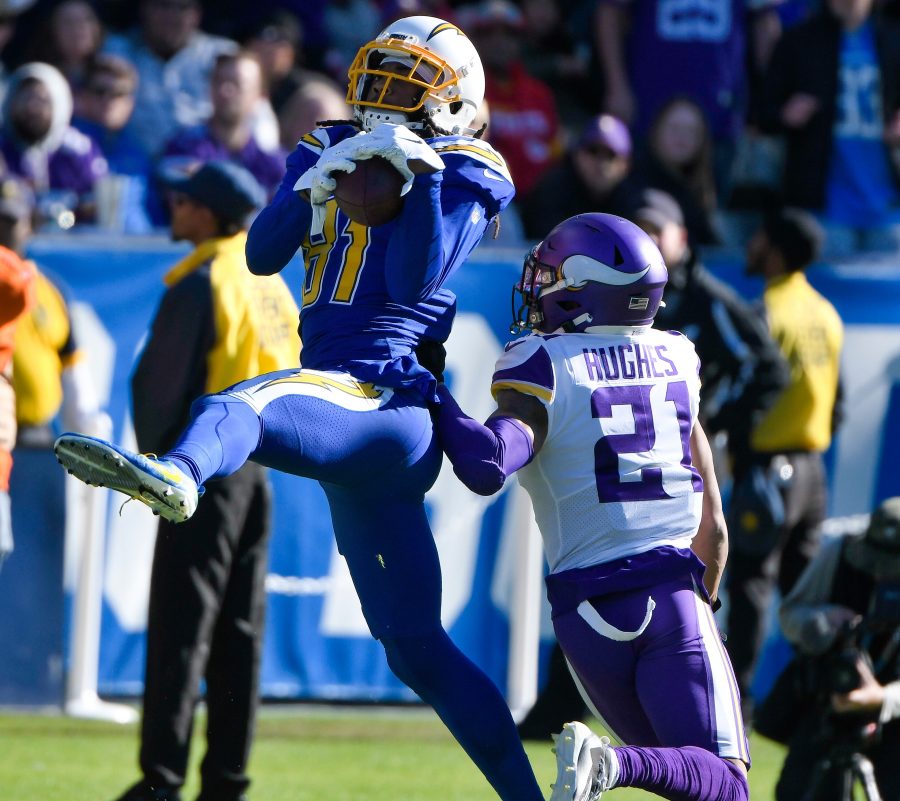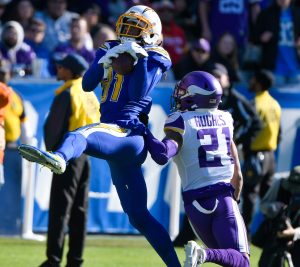 Based on Williams' history, he still did very well for himself. While Keenan Allen continued to display reliability, Williams resided more as a boom-or-bust deep threat. The former top-10 pick had produced just one 800-yard season in four years to start his pro career, but under 2021 OC hire Joe Lombardi, Williams took a step forward. The Chargers used the 6-foot-4 target all over the field, and with the team lacking a flashy tight end option and breaking in young receivers, Williams' presence as an Allen complement loomed large. In addition to Williams' career-high 1,146 yards, he exceeded his previous single-season reception best by 27 (with 76 catches).
The Chargers are the only team to roster two $20MM-AAV receivers, a luxury they can presently afford thanks to Herbert's contract. Allen is now on his third contract, one that lines up with Williams' pact. Allen is also signed through 2024. With Allen just 30, despite entering his 10th season, the Chargers should be able to keep their long-tenured receiver pair together for at least two more years. Backloading Herbert's eventual mega-extension will help assure that.
Washington oddly released Hopkins, their seven-year kicker, to sign a player who impressed in a practice workout (Chris Blewitt). Washington ended up cutting Blewitt before the season ended. The Chargers happily hired Hopkins to take over for Tristan Vizcaino, who was 10-for-15 on extra points to start his Bolts tenure. Hopkins made 30 of 32 PATs as a Charger and connected on a career-best 90% of his field goals, when Staley allowed them. Hopkins, 31, will aim to stabilize a Chargers kicker position that has experienced some hiccups in recent years.
Other:
Tillery not only saw the Chargers punt on his fully guaranteed 2023 option, but the 2019 first-rounder is not a lock to be part of Staley's second Bolts defense. The team's additions of Joseph-Day, Johnson and Christian Covington, and fifth-round selection of Ogbonnia, create fewer roster spots. Tillery has 9.5 sacks in three seasons, including a career-high 4.5 in 2021, but PFF has viewed the Notre Dame product as one of the league's worst full-time defensive linemen throughout his three-year career. Tillery's troubles in run defense contributed to the Chargers' rampant issues in that department last season.
Top 10 cap charges for 2022:
Although the Broncos and Raiders' well-regarded offseasons create a deep AFC West, Herbert's superstar trajectory coupled with the offseason defensive enhancements probably give the Chargers a higher floor in this tri-pursuit of the Chiefs' longstanding divisional throne. From Mack's addition creating tantalizing edge-rushing possibilities to the Bolts keeping Williams off the market to the reinforcements on both lines, the 2022 team will not have many excuses — barring injuries, which have certainly been a bit of a problem for this franchise — going into the season.
The Chargers may have seen their fanbase shrink post-San Diego, but they should boast one of the NFL's most interesting teams in 2022. Their offseason upgrades paying off, as Herbert continues to ascend, would certainly make the Bolts matter in the AFC's grand scheme. Will this be the year they shed the "tease" label?
Follow @PFRumors