The Bengals' special teams room has looked mostly the same for 14 years. Bengals coach Darrin Simmons has held the role of special teams coordinator since 2003, adding "assistant head coach" to his title for his 19th and 20th seasons in Cincinnati. It appears, though, that changes could be in the making as Simmons adjudicates position battles including the team's longest-tenured players, according to Jay Morrison of The Athletic. Both punter Kevin Huber and long snapper Clark Harris will face position battles in camp for the first times in their long careers.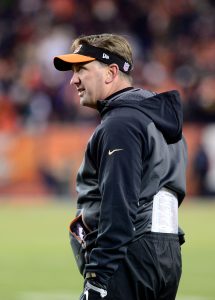 Huber is entering his 14th year in the league. All 14 have come with the Bengals, who drafted him in the fifth round of the 2009 NFL Draft out of the University of Cincinnati. Huber is 20 punts short of 1,000 and one game shy of setting a franchise record for games played as a Bengal. Despite his extreme familiarity with the franchise, Huber is facing a position battle that should have occurred last year.
Drue Chrisman signed as an undrafted free agent with the Bengals after six years at Ohio State in 2021. The Cincinnati-native from La Salle High School chose to stay close to home for his first NFL signing. The strong-legged challenger was set to compete with the long-time veteran Huber before a broken hand shut Chrisman down. He was waived before the regular season and signed to the team's practice squad. The Bengals released him in mid-October and the Steelers scooped him up two months later, just to release him after only two days. Cincinnati quickly re-signed him to the practice squad until releasing him in mid-January. Chrisman signed a reserve/future contract with Cincinnati a week before they would appear in the Super Bowl.
Now, Chrisman is back, hand intact, to challenge Huber for his job. According to Morrison, while Chrisman's leg strength is a plus and the battle will surely judge punting factors such as hang time and directional accuracy, Chrisman's true test to win the job will be his ability to handle the duties of holder, a role commonly assigned to punters and backup quarterbacks. If Chrisman can show a reliability holding for rookie sensation Evan McPherson on field goals and extra points, the Bengals may have no choice but to go with youth and award Chrisman to job.
One may think that Huber's 14 years of holding snaps from Harris gives him an unfair advantage over Chrisman. That may be true, but Chrisman may not be at too much of a disadvantage as Harris, too, will face competition in training camp for his job.
Harris is headed into his 16th year in the NFL and his 14th with the Bengals. Harris served double-duty in college as a tight end and long snapper at Rutgers. As a redshirt sophomore, Harris led the Big East in catches, yards, and touchdowns for a tight end. He received first-team All-Big East honors for three straight years. Harris was drafted in the seventh round of the 2007 NFL Draft by Green Bay. He spent time on the practice squads for the Packers, Lions, and Texans in his first three seasons, finally making his NFL debut as a long snapper in Houston when starter Bryan Pittman was suspended for four games. After being released from another practice squad, Harris was signed midseason by Cincinnati to be their long snapper.
Harris has been extremely reliable for the Bengals. Since signing with the team in 2009, Harris has missed only three games and has never had an unplayable snap. Unfortunately, Harris got on the bad side of his long-time position coach during the team's Super Bowl LVI loss. While McPherson gained further notoriety around the country for skipping locker room adjustments to watch the Super Bowl halftime show, Harris' participation (and influence) in those antics drew the frustration of Simmons, according to The Athletic's Paul Dehner Jr. Simmons found himself needing to make "a few critical adjustments" that required shifting personnel in a few packages, but the constant of every package was on the field with the rookie kicker watching the show. When asked if the situation was all water under the bridge, Simmons replied, "It's not under the bridge. I'm still floating on the float. It is what it is."
Whether a result of the halftime stunt or just a reaction to Harris' growing years, the Bengals brought in University of Pittsburgh first-team All-American long snapper Cal Adomitis as an undrafted free agent this offseason. Adomitis also won the Patrick Mannelly Award, given to the best long snapper in the country, in his fifth and final year with the Panthers.
Harris has reportedly responded well to the newcomer, reporting for offseason activities in the best shape he's been in during recent years and "(working) his tail off" to prepare to fight for his job.
Both Huber and Harris have the talent, experience, and familiarity to win the starting jobs. But Chrisman and Adomitis have plenty of talent and the youth to back it up for potentially 14 years to come. As Huber and Harris head into contract years, will the Bengals stick with experience or ride the youth movement along with their second-year kicker?
Follow @PFRumors