The latest London game will feature two 2-5 teams — one of them set to debut a rather odd uniform combination — and lacks the appeal the Giants-Packers matchup brought. But Sunday's Broncos-Jaguars meeting figures to have a major impact on next week's trade deadline.
As the interest in Jerry Jeudy persists, the third-year Broncos wide receiver is now viewed as available, according to ESPN.com's Jeremy Fowler. An initial report indicated the Broncos were not planning to trade the former first-round pick, but interest may be developing to the point the franchise is prepared to follow through.
KJ Hamler and Melvin Gordon are two other Broncos who have also drawn some interest, per ESPN's Dan Graziano. Bradley Chubb joins them. Chubb and Jeudy would bring back the most in returns, but Gordon and Hamler have each been three-year contributors in Denver. The Broncos' disastrous start has piqued teams' interest re: trades, with Fowler adding teams believe Denver GM George Paton is willing to deal multiple players.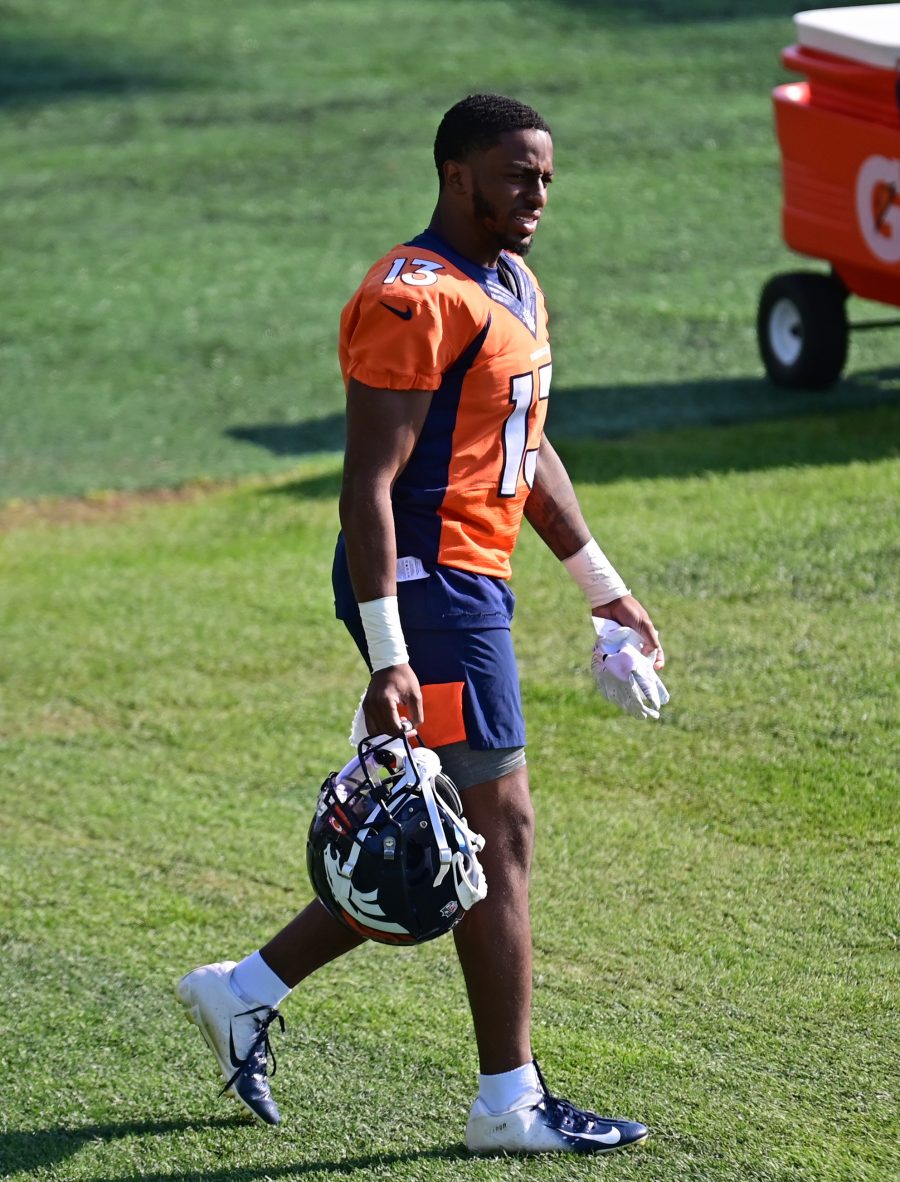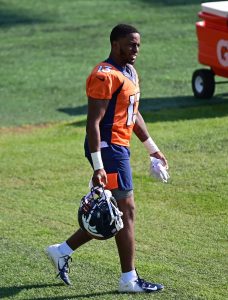 Chubb and Jeudy might carry similar value; Day 2 draft capital is likely required to pry either from the freefalling Broncos. But the latter is believed to be close with Russell Wilson and would stand to be a considerable asset in Wilson's second Broncos season. Jeudy, 23, is three years younger than Chubb and would profile as a cheaper complement to Courtland Sutton and Tim Patrick, who each signed extensions during the 2021 season.
Providing slot ability Sutton and Patrick lack, Jeudy has flashed at points during his Broncos tenure. Injuries have, however, limited the Alabama alum, who arrived in Denver before Paton. John Elway's final first-round pick as GM, Jeudy has also seen the Broncos' struggles at quarterback limit him. A team eyeing the 6-foot-1 pass catcher would stand to believe it can unlock more from a player who can be controlled on his rookie deal (via the fifth-year option) through 2024. Jeudy's contract enhances his value, even if his production has come in below draft-class peers Justin Jefferson, CeeDee Lamb and Tee Higgins.
The Broncos chose Hamler in the 2020 second round, but injuries and inconsistency have defined his career. An ACL tear and hip injury in Week 3 of the 2021 season kept Hamler out to the point the Broncos sat him in an early-season game this year. But the Penn State-developed deep threat has played in six games this season. Jeudy's 386 receiving yards are second on the team; Hamler is only at 113 (on five catches). The latter's trade value will be considerably lower.
Gordon, 29, has not seen eye-to-eye, usage-wise, with embattled HC Nathaniel Hackett. Whereas Hackett has run into trouble on most fronts, Gordon's fumbling problem has led to his reduced standing. Since Gordon signed a two-year, $16MM Broncos deal in 2020, he has fumbled 11 times. No other running back in that span has put the ball on the ground more than nine times. Javonte Williams' injury did not lead to a full-time Gordon role, with Latavius Murray — signed off the Saints' practice squad — soon taking over as Denver's primary back. This has led to frustration from Gordon, who has still started the past three Broncos games. He is averaging 3.5 yards per carry this season. The two-time Pro Bowler did combine for 20 touchdowns during his first two Broncos slates.
The former Chargers first-rounder re-signed on a one-year, $2.5MM deal that includes a $2.15MM base salary. Gordon joins Cam Akers and Kareem Hunt as prominent backs who could be moved before the Nov. 1 deadline. Gordon might be dealt regardless of the Broncos' result against the Jaguars, joining Albert Okwuegbunam in that regard. But Denver's outing against Jacksonville might determine where high-profile cogs like Jeudy and Chubb finish the season.
A regular deadline seller in recent years, Denver has traded Demaryius Thomas, Emmanuel Sanders and Von Miller since 2018. The Wilson trade also stripped Denver of its first- and second-round picks in 2023. Will the team make a move to recoup Day 2 value?
Follow @PFRumors