OCTOBER 30: Adam Schefter of ESPN.com confirms Fowler's report that Cleveland is willing to deal Hunt and would like a fourth-round pick in return. Florio now seems to be in agreement on this point as well and says that it is "starting to feel inevitable" that Hunt will be traded by Tuesday's deadline.
OCTOBER 26: This summer, Kareem Hunt requested a trade. The Browns, bracing for a significant Deshaun Watson suspension that would force them to lean more on their run game, resisted and communicated to Hunt his importance to the team season. Less than a week ahead of the trade deadline, they may be ready to reverse course.
Certain teams believe Hunt available for the price of a fourth-round pick, according to ESPN.com's Jeremy Fowler, but Mike Florio of Pro Football Talk notes the price is believed to be much higher. Cleveland, per Florio, is believed to want a Christian McCaffrey-type package for Hunt. Obviously a sizable gap exists between these two values, with a McCaffrey-level haul probably wishful thinking. But Hunt's name being circulated is interesting by itself.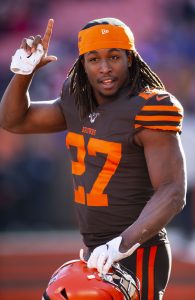 The Browns initially took a gamble by signing the once-embattled running back, who went from NFL rushing champion to a player the Chiefs waived after a video circulated that showed him assaulting a woman at a Cleveland hotel. Since serving an eight-game suspension, the Cleveland-area native has become the 1-B option in one of the better NFL backfield duos to emerge this century. But Nick Chubb has been Cleveland's 1-A since this tandem formed. Chubb's salary reflects it, and Hunt is running out of time to cash in again.
Hunt signed a two-year, $12MM extension just before the 2020 season. While that move represented a nice payment for a player who had severely damaged his NFL stock, lower-profile backs passed Hunt as the market shifted.
Even around the time Hunt reupped with the Browns, standouts like Dalvin Cook and Joe Mixon inked deals worth double Hunt's per-year figure. This year, Chase Edmonds, James Conner and Leonard Fournette each passed Hunt as well. Chubb is tied to a three-year, $36.6MM extension, illustrating the Browns' view of their backfield situation. Hunt's $6MM-AAV mark sits 15th at the position.
Hunt's contract-year salary is just $1.35MM, meaning a team would owe the sixth-year back barely half that by trading for him. However, the potential for Hunt to be had for a fourth-round pick appears to stem from the $200K-per-game roster bonuses, Fowler adds. That said, one GM who spoke to the Washington Post's Jason La Canfora said Hunt would be the best back available and "it's not even close."
It is worth wondering where Hunt's career would be had the assault not occurred. The former third-round pick won the rushing title as a rookie and was on pace for better numbers in Patrick Mahomes' first season as Kansas City's starter. Although Hunt's 1,145 scrimmage yards contributed to the Browns snapping their playoff drought in 2020, that figure came in below even his 11-game 2018 season (1,202 yards, 14 touchdowns). This season, Chubb's carry count (126) has nearly doubled Hunt's (66).
At 27, Hunt would still stand to draw interest on the 2023 market — which could feature one of the deeper running back groups in free agency history — and the suspension did conserve the Toledo product some mileage. Still, Hunt's age will work against him in free agency. A trade to a team willing to extend him would be an interesting development.
No deal should be considered likely until deadline day. The Browns are 2-5 and clinging to the prospect of Watson returning to revive their season, and Monday night's Bengals matchup could represent the team's last window to that reality. But the Browns still have Watson-less games against the Bills, Buccaneers and Dolphins. Staying in contention until Watson's December debut will be difficult, which will put the franchise to a decision on Hunt. With the Watson trade's historic cost stripping the Browns of draft capital, collecting picks for Hunt appears to be a route the team will consider.
Follow @PFRumors