Odell Beckham Jr.'s third and final visit has concluded, but it's uncertain if a contract is imminent. Josina Anderson tweets that the wideout's visit with the Cowboys concluded earlier this evening. This followed reports from earlier today that Dallas was concerned about OBJ's knee.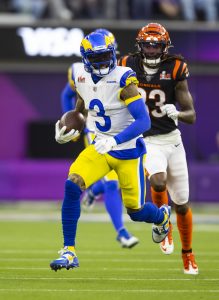 [RELATED: Cowboys Concerned About OBJ's Health]
Throughout the sweepstakes, there's been persistent skepticism that OBJ would be able to contribute this season after suffering a torn ACL during last season's Super Bowl. After opining earlier today that any team signing the wideout wouldn't benefit until the 2023 campaign, Ed Werder adds (on Twitter) that the Cowboys "should not reasonably expect OBJ to play before [the] postseason." Werder adds that Jerry Jones has been consistent in his assertion that a receiver acquistion needs to contribute during the regular season, but with only five games remaining, there's a chance the executive's stance has changed.
The wideout met with the Cowboys this week after previously meeting with the Giants and Bills. Unless something changed during tonight's meeting, the Giants were the only reported team to put OBJ through an actual workout. This only adds uncertainty to OBJ's readiness, although the wideout was cleared to return to the field in November.
Mike Florio of Pro Football Talk is raising an eyebrow to the sudden leaks surrounding OBJ's playing status. A league source told Florio that the negative info is "astounding" and wondered how the player could "even consider signing there now." That same source questioned if the Cowboys are simply going through the motions to placate fans, and that would add to a previous sentiment that Dallas was only trying to drive up the price on their division rival.
There may be more to the Cowboys' public posturing. Clarence Hill Jr. of the Fort Worth Star-Telegram tweets that the two sides were "still aways apart" with contract negotiations heading into tonight's meeting. Previous reports indicated that Beckham was seeking a multiyear offer with a $20MM-plus AAV, although that was always considered to be unrealistic. The Rams offered an incentive-laden deal when they pursued OBJ earlier this season, but the receiver was quick to dismiss that arrangement.
Follow @PFRumors