Seeing their 10-game losing streak prove enough — thanks to some help from their former coach in his Texans finale — the Bears have a number of options at No. 1 overall. By virtue of the Texans' Lovie Smith-guided win Sunday, the Bears have a chance to make the No. 1 overall pick for the first time in 76 years.
Chicago could go with a best-player-available approach, likely ending with an SEC defensive lineman, or put the pick up for sale. No one has traded down from No. 1 since the Titans did so in 2016 (allowing the Rams to land Jared Goff). A third option — drafting a quarterback first overall — looks to be a much lower-percentage shot for GM Ryan Poles.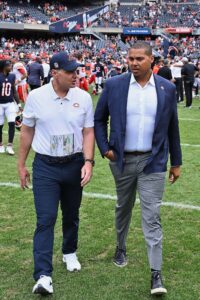 "We're going to do the same as we've always done — we're going to evaluate the draft class," Poles said Tuesday, "and I would say this: I would have to be absolutely blown away to make that type of decision."
[RELATED: Colts Open To Trading Up For Quarterback]
While the Bears selecting a quarterback first overall would remind of the Cardinals' 2019 decision to take Kyler Murray a year after they had chosen Josh Rosen 10th overall in 2018, Justin Fields has shown far more than Rosen did. The Bears have Fields signed through 2024, and a fifth-year option would take the run-oriented QB's deal through 2025. Bryce Young's pre-draft buzz could conceivably affect Fields, but as of now, it does not sound like that will happen.
Poles endorsed Fields as the Bears' starting quarterback in 2023. Despite the Bears not equipping him with too much at wide receiver, the deadline deal for Chase Claypool notwithstanding, Fields showed growth during his second season. He nearly broke Lamar Jackson's record for rushing yards by a quarterback. Chicago's decision to shut him down ahead of Week 18 kept the Ohio State product at 1,143 rushing yards — second-most in a season by a QB.
Fields, however, took an NFL-high 55 sacks, and the Bears ranked last in the league in passing. It would be rather shocking for Chicago to take a quarterback, but this regime did not draft Fields in 2021. Poles and Co. will prepare for the Bears' rare opportunity atop the draft board.
"I think we have really good flexibility to help this team, regardless if it's making the pick there or moving back a little bit or moving back a lot. We'll be open to everything," Poles said. "We can evaluate the talent there; we can see what player presents themselves in that position to help us, and then we can look at the scenario. If the phones go off and there are certain situations where that can help us, then we'll go down that avenue, too."
Moving up 14 spots to No. 1 in 2016, the Rams sent the Titans two 2016 second-rounders, their 2017 first and a 2017 third in the Goff deal. Prior to that, the last time a team traded out of No. 1 overall — excluding the 2004 Philip Rivers–Eli Manning scenario that came about because of the latter's wishes to not play in San Diego — was 2001, when the Chargers gave the Falcons the Michael Vick pick. The Bears, however, sent the 49ers two third-round choices and a fourth-rounder to move up one spot for Mitch Trubisky at No. 2 in 2017. Considering Young's Heisman pedigree, Chicago might ask for more than that if Houston wanted to climb a spot this year.
Thanks to the Fields and Khalil Mack trades, the Bears have only made two first-round picks over the past five drafts. Trading down would allow for the rebuilding team to keep stockpiling assets, as it showed it was willing to do with the trades of veteran defenders last year. Otherwise, Will Anderson or Jalen Carter — Mel Kiper Jr.'s top two players in the 2023 class — would await to give Chicago a centerpiece of its defensive rebuild.
Follow @PFRumors