The Jets have their Mike LaFleur replacement in place after Thursday's decision to hire Nathaniel Hackett as their new offensive coordinator. That move immediately led to speculation that it could be followed in the near future by the acquisition of Aaron Rodgers.
New York is indeed expected to add a veteran passer this offseason in the wake of Zach Wilson's struggles, and a clear connection exists between Hackett and the future Hall of Famer. The pair worked together in Green Bay between 2019 and 2021, a period during which Hackett did not call plays but still played a role in the team's (and Rodgers') shared success. Head coach Robert Saleh denied Hackett's background with the Packers – and his potential importance with respect to securing Rodgers via a trade – played a role in his hire, though.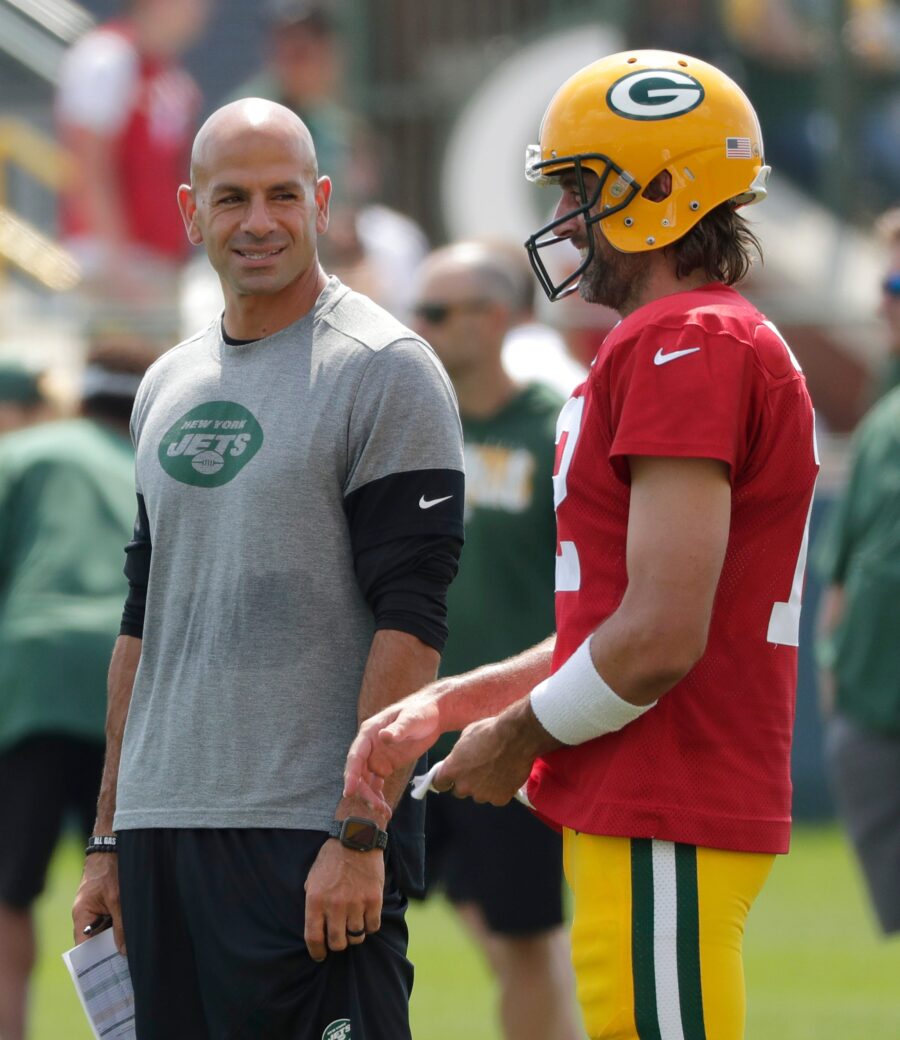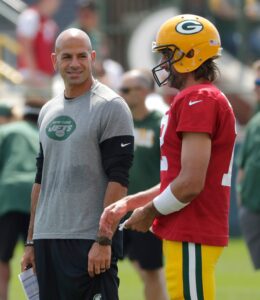 "It doesn't matter what the connections are," Saleh said, via Brian Costello of the New York Post. "Everyone's got a connection to everybody in this league. The most important thing was finding a guy who we felt could continue developing our young guys at a very high level and a guy who has done it before, a guy who has had success in this league with a variety of different quarterbacks."
Hackett has indeed worked with several different signal-callers dating back to his time as a play-caller in Buffalo and Jacksonville. While those stints did not result in much success (save for the 2017 Jaguars' run to the AFC title game), the 43-year-old represents at least a somewhat reasonable hire given his track record prior to his disastrous foray into a head coaching role in Denver last year.
The Broncos were long connected to Rodgers given not only Hackett's hire, but the presence of a strong defense and several intriguing skill-position pieces on the roster. The exact same can be said of the Jets at this point, as they boast a number of high-end defenders, a strong running game and a pass-catching corps led by Offensive Rookie of the Year finalist Garrett Wilson.
Rodgers is once again at the heart of trade speculation, though it still remains to be seen if he will play in 2023, and how willing the Packers would be to move on from him. The four-time MVP is due $58.3MM option bonus this year, and it can be paid at any before the season begins. But a team trading for Rodgers would have the opportunity to roster him on merely a $15.8MM cap hit in 2023. Even after a down season statistically, Rodgers would also likely command a hefty trade price from the Jets or any other interested team. In light of that, Saleh doubled down on his support for Hackett being his preferred choice to guide the team's status quo on offense.
"When it came back to a certain checklist that I was trying to go through, just checking boxes on what we were looking for in regard to this next offensive coordinator, I just kept circling back to him," Saleh said. "He checks every box of what we were looking for. I'm really, really excited about being able to get Nathaniel here."
Follow @PFRumors