The Texans are attempting to move this DeMeco Ryans process past the goal line. The two-year 49ers defensive coordinator is set for a second interview with the team this week, and after back-to-back one-and-done HCs, the Texans appear more committed to a candidate this time around.
With Ryans pivoting from Broncos frontrunner to Texans favorite, Josina Anderson of CBS Sports notes (via Twitter) Houston's ownership is pushing to close the deal and make the former linebacker the franchise's next head coach. Ryans, who played for the Texans from 2006-11, is believed to have interest in coaching his former team. Now that the 49ers have been eliminated, Ryans can be hired at any point. He is the clear clubhouse leader for the Houston job, Peter King of NBC Sports writes.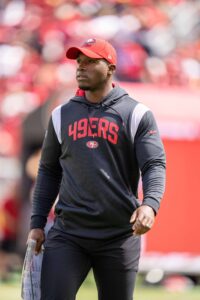 The 38-year-old coordinator has not closed the book on the Broncos, Anderson tweets, but he is believed to prefer the Texans. The hope here is a deal is agreed to during Ryans' second interview this week, per Mark Maske of the Washington Post. The Broncos were the first team to speak with Ryans but have not scheduled any second interviews.
Texans ownership and GM Nick Caserio were impressed with "everything about" Ryans in his Zoom interview Jan. 20, veteran Texans reporter John McLain notes. The past two Texans HC searches meandered and ended on candidates other teams were not considering — David Culley, Lovie Smith. This one is decidedly different, as all five HC-needy teams were interested in speaking with Ryans. The longtime Kyle Shanahan staffer, however, has only spoken with two teams. Both have been impressed to the point he became their frontrunners.
While the Colts and Cardinals had interviews scheduled with Ryans, he declined to speak with those teams hours before the 49ers' divisional playoff game against the Cowboys. The Panthers also reached out to Ryans with an interview request, but after logistics initially impeded an interview, the parties moved on. It now looks like the Texans hold a big lead on the Broncos, whose coaching search has hit a few snags.
Denver's position comes with a new ownership group, a quarterback extension (Russell Wilson's five-year, $245MM pact) that has brought sustained turbulence since Week 1 and a placement in a division with Patrick Mahomes and Justin Herbert. The Texans' division does not feature a similar gauntlet, and the team holds two first-round picks and is projected to be among this year's cap-space leaders. Ryans also knows this ownership, to a degree, dating back to his days playing for the then-Bob McNair-run franchise. The Texans traded Ryans to the Eagles in 2012, but his wife is from Houston. It certainly looks like, despite the Texans' issues with HCs under Caserio, an agreement is coming soon.
Follow @PFRumors