MARCH 26: Jeff Howe of The Athletic (subscription required) reiterates earlier reports that the Broncos are seeking a first-round pick in a Jeudy trade, with Troy Renck of Denver 7 tweeting that the club is holding firm on that demand. Doug Kyed of AtoZSports.com hears that Jeudy may be a more realistic trade option than Hopkins, but Denver's insistence on a first-rounder in exchange for Jeudy could be an indication that the team does not really want to move him.
League sources tell Howe that Denver's asking price for Sutton remains too high as well, so although the Broncos' interest in free agent pass catchers does suggest that Payton & Co. are perhaps willing to make some changes to their receiver room, it is clear that a club that wants Jeudy or Sutton is going to need to make an especially aggressive offer.
Indeed, Cabot reports that the Browns never got close to landing Jeudy. Cleveland was prepared to deal the No. 42 overall pick in this year's draft — the same pick that it used to acquire Elijah Moore from the Jets — but the team would have also needed to include a talented player or another high selection in the 2024 draft, and even that may not have been enough.
MARCH 22: While reports of the Broncos' plans to keep Jerry Jeudy and Courtland Sutton keep emerging, the again-retooling team's starting wide receivers continue to come up in trade rumors. Denver's pursuits of other wide receivers in free agency may provide a hint to Sean Payton's plans at the position.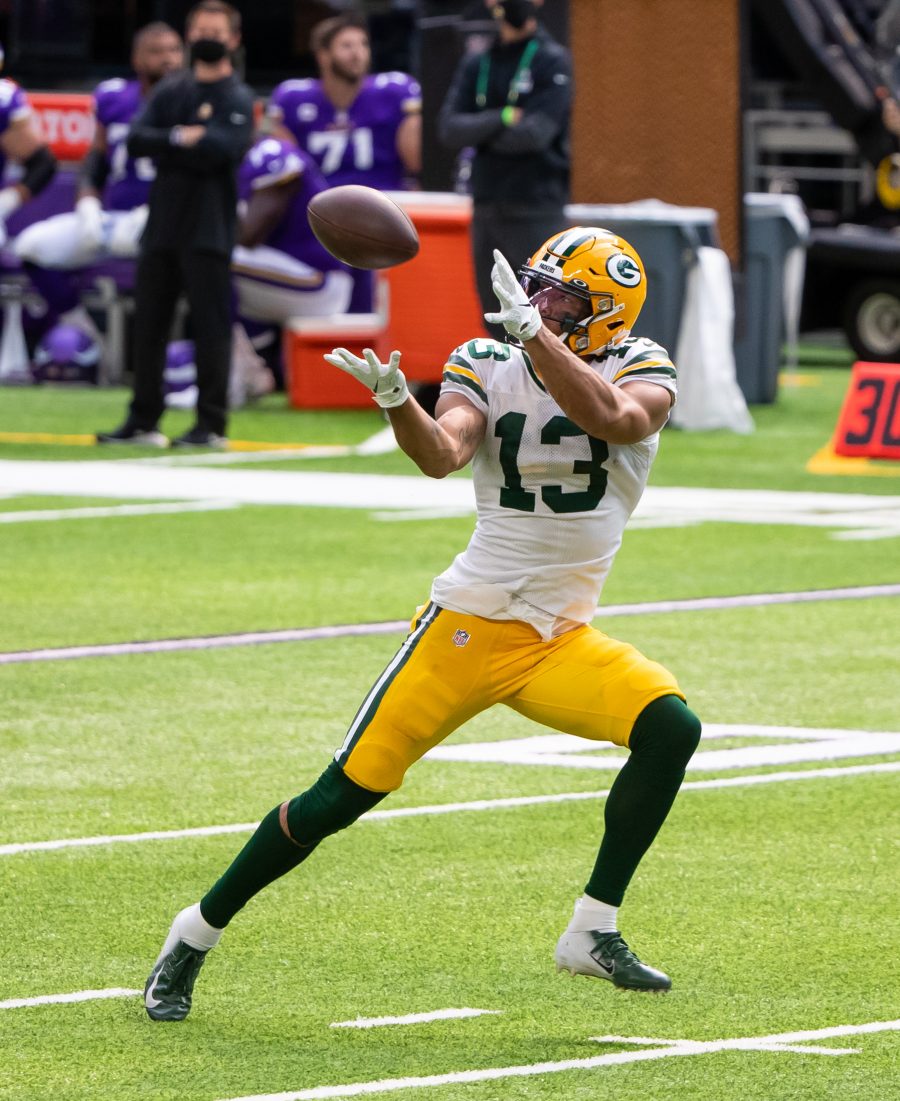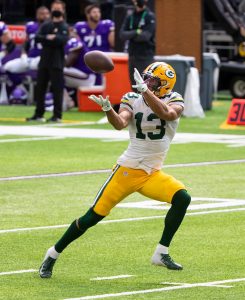 Adam Thielen said the Broncos and Cowboys joined the Panthers in pursuing him in free agency, David Newton of ESPN.com notes, while The Score's Jordan Schultz adds the team made an aggressive push for Allen Lazard before he signed with the Jets (Twitter link).
As the Broncos potentially helped drive up the prices for Thielen and Lazard, who respectively received $14MM and $22MM fully guaranteed, the subject will shift back to their holdover receivers. Denver rosters a former first-round pick (Jeudy), two outside receivers on veteran deals (Sutton, Tim Patrick) and a second-round deep threat who has battled steady injury problems (KJ Hamler). Given the team's pursuits of outside help at the position, it can be assumed Payton wants to shake up this position, which has not seen major augmentations since the Jeudy and Hamler selections three years ago.
Count the Browns as a team in on Jeudy. While the Broncos want a first-round pick for Jeudy, Mary Kay Cabot of cleveland.com notes the Browns have not given up on a pursuit despite their lack of a first-round selection this year. The Broncos are not truly keeping Jeudy off the market, Cabot adds, as they are willing to part with the fourth-year receiver for a strong offer.
The Cowboys look to be off the table for Jeudy, after they acquired Brandin Cooks, but teams like the Giants and Patriots have previously looked into the talented pass catcher. While DeAndre Hopkins is willing to rework his contract, the Cardinals wideout's through-2024 deal would be more expensive to acquire than Jeudy's. A modest fifth-year option price can extend Jeudy's rookie deal through 2024. With some teams still look for receiving help during an offseason that brought an unremarkable free agency crop and looks to feature a lesser group of prospects in the draft, Jeudy's name will carry value in the weeks leading up to the draft.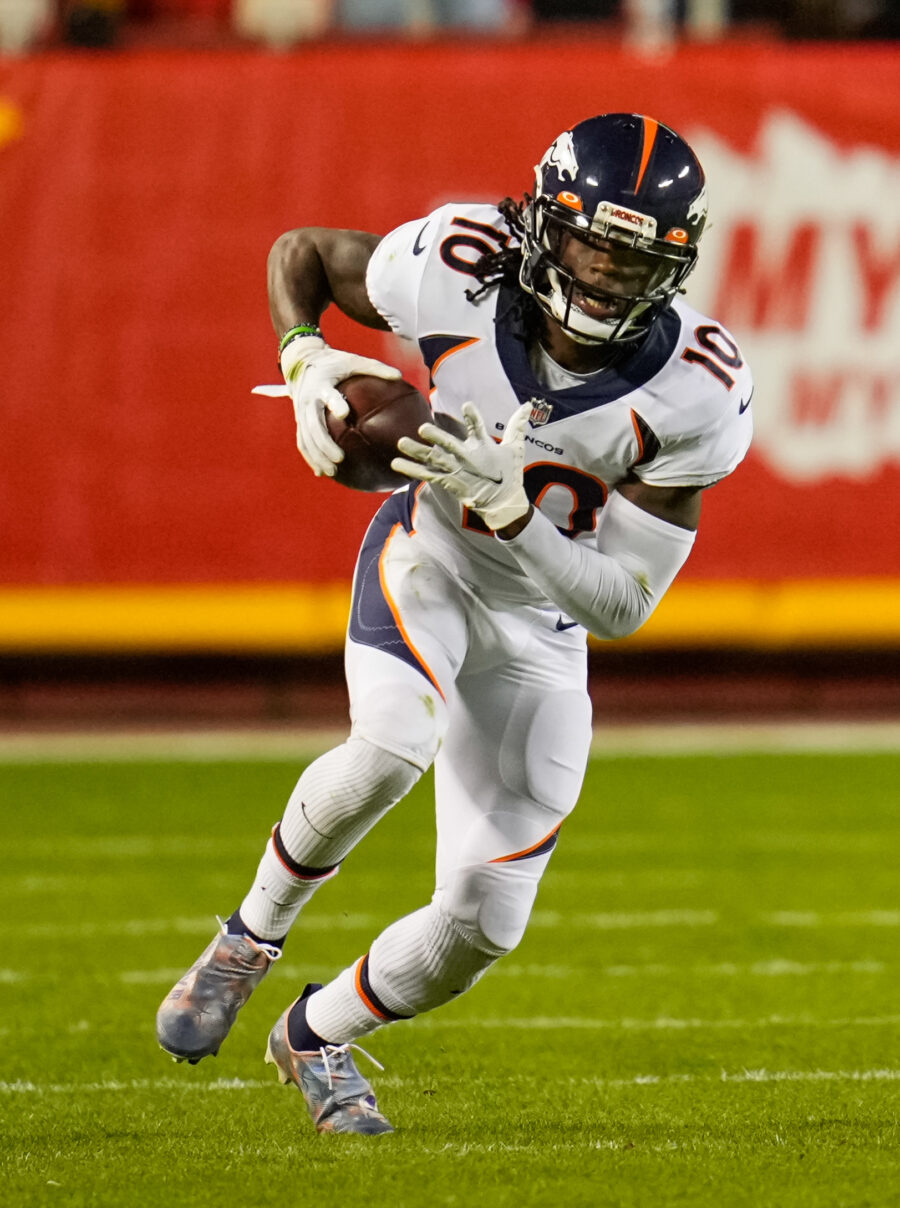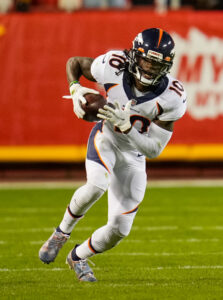 The Browns have Amari Cooper tied to his Cowboys-constructed $20MM-per-year deal. Although the team restructured Cooper's contract last year, his cap numbers sit at $23.8MM in 2023 and '24. The team also restructured Deshaun Watson's deal, ballooning his 2024-26 cap numbers to record-obliterating figures while dropping his 2023 hit to $19.1MM. The Browns hold just more than $10MM in cap space. Jeudy would fit alongside Cooper and Donovan Peoples-Jones in Cleveland; the latter is going into a contract year but produced his best season in 2022.
Denver's wideouts have yet to put it together. Quarterback play, injuries and last year's disjointed offense have played a major role in Jeudy and Sutton's inconsistency. But the team's pursuits of Thielen and Lazard will not quiet the rumblings that either Jeudy or Sutton could be on the move ahead of the draft. Sutton and Patrick's skillsets overlap, and Thielen and Lazard also qualify as possession targets. Jeudy's route-running chops and elusiveness differ from both the incumbent targets and the recent free agents, but at 23, he would fetch the Broncos the best haul.
The Broncos, they of no first- or second-round pick this year, continue to be faced with a choice of retaining a promising wide receiver — one who would stand to move the needle as Payton attempts to reignite Russell Wilson — or moving on in exchange for vital 2023 draft capital.
Follow @PFRumors