After an injury-filled year on their offensive line, the Cardinals have agreed to a new deal that will bring back their most dependable lineman, offensive tackle Kelvin Beachum, according to freelance journalist and former Cardinals staff writer Mike Jurecki. Set to turn 34 in June, the veteran tackle will return to Arizona on a new two-year contract.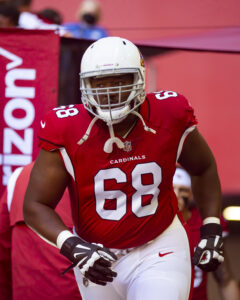 Beachum had to work his way into a starting position in his first two years in the league for the Steelers, but after earning it, Beachum refused to let go. He was Pittsburgh's starting left tackle every year after his rookie season. The only exception came after a torn ACL cost him the last 10 games of the 2015 season, the last year of his rookie contract.
The ACL injury, the only major injury of his career, hurt his chances of a strong, long-term contract, but after a year as Jacksonville's left tackle, Beachum signed a three-year, $24MM deal with the Jets. After two years s the starting left tackle in New York, Beachum, once again, found himself on the open market, signing with the Cardinals who would switch him to the right side of the offensive line for the first time since his rookie year.
Beachum has only ever missed two games in Arizona due to injury, but his durability was best put on display this past year after starting every game of the season for the Cardinals. Beachum was the only Arizona offensive lineman to account for over 72-percent of the team's offensive snaps in 2022, playing nearly 98-percent of them.
Beachum has played for three years in Arizona now and finishing out this new deal will make the Cardinals the team Beachum has played for the longest in his career. He's been the team's starting right tackle since 2020, and there's no reason to believe he won't continue that role for the next two years.
The news of his return is certainly heralded and welcomed after last year's endurance, but it's slightly unexpected that the team chose to go this route. Within its many injuries on the offensive line last season, the Cardinals were able to see that it had two capable starting tackles in D.J. Humphries and Josh Jones. Both players graded out better than Beachum, according to Pro Football Focus (subscription required), and with Jones still on his rookie contract and Humphries still five years younger than Beachum, many thought youth and affordability would prevail. Not only that, but Beachum, who clearly has good ball left in the tank, was thought to have priced himself out of Arizona, especially since moving forward with Jones and Humphries would be the more affordable play.
Regardless, the Cardinals rewarded Beachum for his endurance and veteran leadership. After showing last year that age is just a number, Beachum will continue to show how durable he can be for the next two years in Arizona.
Follow @PFRumors