The Cowboys are one of a few teams which have frequently been mentioned as serious suitors for free agent wideout Odell Beckham Jr. Given their acquisition of Brandin Cooks earlier today, however, they might not be a landing spot for Beckham any longer.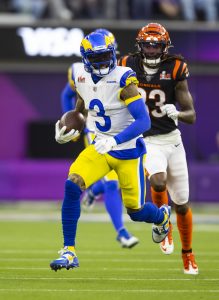 ESPN's Ed Werder reports that with Cooks now in the fold, the Cowboys are "likely out of the competition" for Beckham (Twitter link). The latter was mentioned throughout the 2022 season as a candidate to head to Dallas, with owner Jerry Jones repeatedly singing his praises. Beckham ultimately sat out the entire campaign, though, returning his focus to his ongoing ACL recovery in advance of finding his next NFL home.
Even with the Texans agreeing to pay one third of Cooks' 2023 salary, adding Beckham to the Cowboys' receiver room would be difficult. The 30-year-old has been attached to an asking price of $20MM per season on his next deal, something which would take him out of consideration for the Cowboys and, presumably, many other teams facing tight cap situations. Beckham has pushed back on the reported AAV he is seeking, though.
The three-time Pro Bowler recently tweeted a denial that he has formally asked for $20MM on his next contract. He added, however, that a $4MM-per-season pact is below what he is willing to sign for. An annual salary ranging somewhere between those figures could prove to be a worthwhile investment for a team interested in adding Beckham provided they are satisfied with his knee's health following his recent workout.
Dallas being out of the running could point Beckham towards a reunion with the Giants, something which has been reported to be on New York's radar for quite some time. GM Joe Schoen has been busy in the pass-catching department this offseason, though, including multiple re-signings at the WR position, the addition of Parris Campbell and the trade acquisition of tight end Darren Waller. Beckham tweeted a response to Giants running back Saquon Barkley hinting that he would still be interested in a new Giants deal if it were to be possible.
Recently, however, the New York team mentioned as most likely to acquire Beckham has been the Jets. Especially if an Aaron Rodgers trade were to be finalized, Beckham's presence on the quarterback's reported wish list could see him be a Jets target as they look to re-tool their offense for 2023. In any event, the chances of a Beckham-to-Dallas deal now appear to be at their lowest yet.
Follow @PFRumors