The Broncos finished last season with seven offensive starters out of the lineup, seeing injuries play a big role in a woeful campaign. The first of those took place during the team's training camp. Tim Patrick missed all of last season because of an August 2 ACL tear.
Eight months later, Patrick will be ready to go for Sean Payton's offseason program. The former UDFA wide receiver said during an appearance on Steve Smith's Cut To It podcast he has received full clearance post-knee surgery. Patrick, 29, said he has been rehabbing at the Broncos' facility and has resumed sprinting and jumping. He will, however, wear a brace to start his on-field receiving work.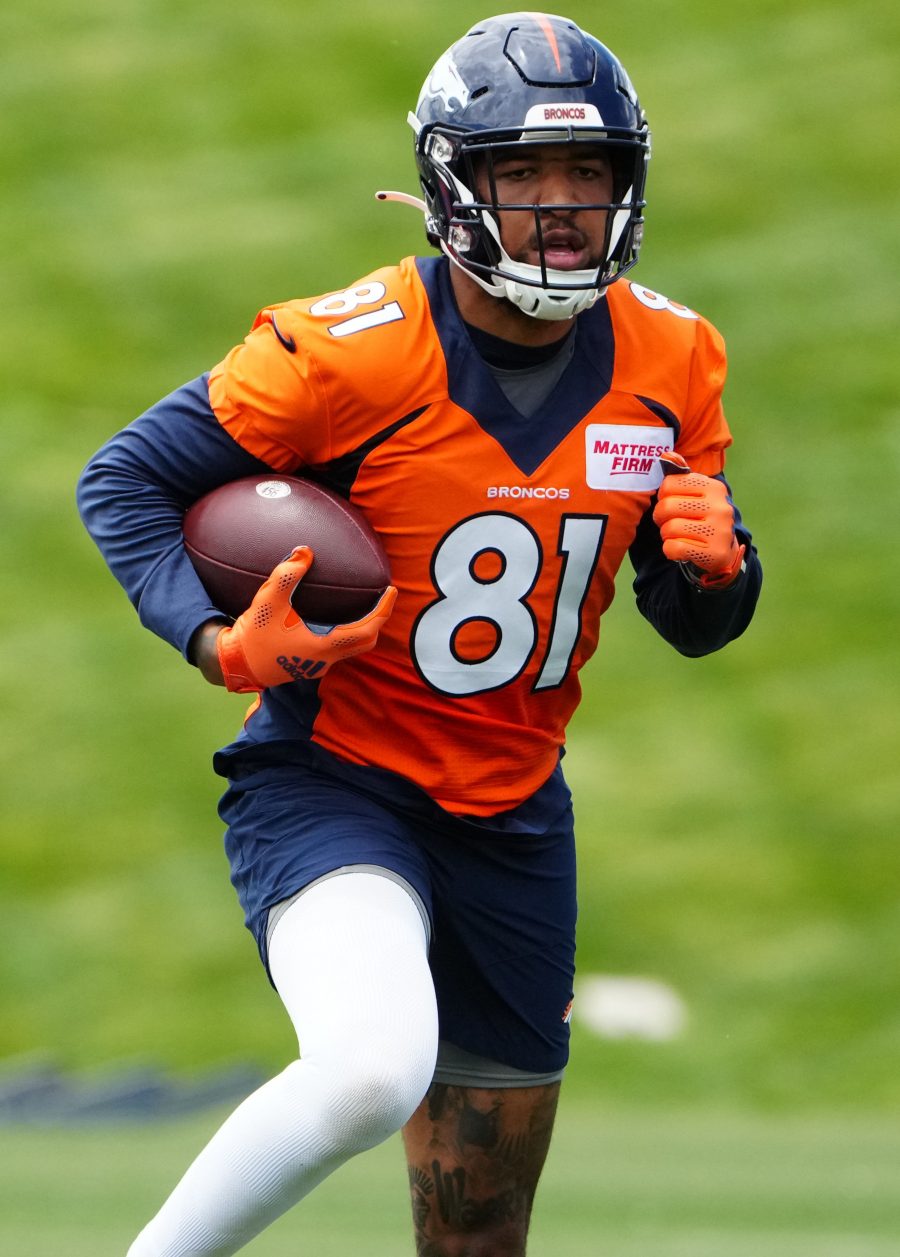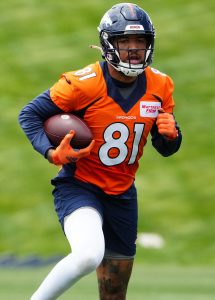 "At this point, I'm cleared to do everything. At this point, I'm just doing repetition to get myself ready to play in a game," Patrick said during the podcast, via the Denver Gazette's Chris Tomasson. "I'm going to wear a knee brace just because of the way I play the game. I want to feel like I have that security and if it's not restricting me and it's allowing me to be me, I'm going to wear it because I know I play the game a little reckless. So just me knowing I have a knee brace on, I feel comfortable playing the way I'm going to play."
Patrick's absence was the first of many issues that hindered Denver's offense, which sank to last in the league despite the March 2022 trade for Russell Wilson. The team fired Nathaniel Hackett, making the current Jets OC the third HC since the 1970 merger to be fired before his first season wrapped, and traded two draft choices for Payton. The ex-Saints leader's recovery effort will involve Patrick, who is going into his seventh season with the Broncos. He is the team's longest-tenured receiver, having joined Denver's practice squad in 2017.
Arriving during John Elway's GM tenure, Patrick signed a three-year, $30MM extension during George Paton's first year in charge. That contract, finalized just before Courtland Sutton's four-year deal worth $60MM, runs through the 2024 season. Sutton is signed through 2025. Jerry Jeudy's rookie contract goes through 2023, though the Broncos — assuming Jeudy remains on their roster post-draft — have a fifth-year option decision due in May.
Jeudy and Sutton have come up in frequent trade rumors. The team is believed to want a first-round pick for Jeudy and a second-rounder for Sutton. As teams have not met those prices, Payton said the plan is to keep both for the 2023 season. Patrick's knee injury effectively took him off the trade market.
The 6-foot-4 possession receiver started 31 games from 2020-21, combining for 1,476 receiving yards and 11 touchdowns in that span. With KJ Hamler having suffered a partially torn pec earlier this offseason, Patrick should be positioned to be a Broncos regular again. That stands to help Payton's Wilson effort to reignite Wilson, though it will be interesting to see if both Jeudy and Sutton flank Patrick once the team convenes for on-field work during the offseason program.
Follow @PFRumors