2:20pm: This interest has progressed to offers. The Steelers have received multiple offers to move down from 32, Adam Schefter of ESPN.com reports (on Twitter). Mike Tomlin's .500-or-better streak has restricted the Steelers from the kind of access they have tonight. During Tomlin's tenure, the team has never made a second-round pick higher than 46th. The team will need to weigh the offers against this rare Day 2 real estate.
Pittsburgh has done well despite mid- to late-Round 2 draft windows during Tomlin's tenure. George Pickens, Pat Freiermuth, Stephon Tuitt, JuJu Smith-Schuster, Le'Veon Bell, Marcus Gilbert and LaMarr Woodley have gone to Pittsburgh in the second round since Tomlin's 2007 arrival. Current GM Omar Khan was on Kevin Colbert's staff throughout, but this marks his first draft in the GM chair.
9:59am: As the No. 32 overall pick is part of this year's second round, the Steelers will have a decision to make. Will Levis was steadily rumored to land in the top 10, but the Kentucky product's Kansas City stay has not yet produced an NFL destination.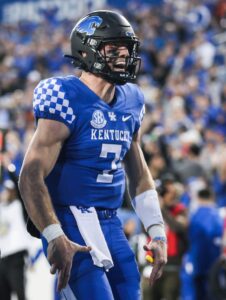 Levis remaining unattached Friday has generated interest, and NFL.com's Tom Pelissero reports the Steelers were fielding calls before Round 1 ended. Other teams holding picks near the bottom of the first round received interest for Levis-related trades, Pelissero adds (on Twitter). Four teams have contacted the Steelers about a trade, ESPN.com's Jeremy Fowler tweets. This sets up an interesting scenario to start Day 2.
The Colts passing on Levis at No. 4, after being consistently tied to the two-year Wildcats starter in the weeks leading up to the draft, began a tough night for the latest player to hover atop "best available" boards for an extended stretch. Teams with quarterback interest (or reported QB interest) went with value elsewhere. The Raiders, Seahawks, Falcons, Lions, Titans, Commanders and Buccaneers all chose position players, with running backs Bijan Robinson and Jahmyr Gibbs going in the top 12. But teams with long-term QB questions or those with shaky 2023 situations can circle back to Levis ahead of Round 2.
The Steelers obtained the 32nd pick by moving Chase Claypool to the Bears at the trade deadline. Pittsburgh reversed course on the 2020 second-round pick and chose Chicago's offer over a Green Bay proposal, expecting the Bears' record to produce a better draft slot. That bet paid off, as Chicago sank to 3-14. The Steelers have a chance to fill a key need, and a legacy option — Penn State cornerback Joey Porter Jr. — joins Levis as being unexpectedly available. Porter visited his father's former team early in the pre-draft process. The Steelers filled a tackle need, trading up three spots for Broderick Jones, but met with a few corners ahead of the draft. The team losing Cameron Sutton and being set to experiment with Patrick Peterson at safety points to corner being a point of emphasis tonight.
Should the Steelers go with Porter or stay at 32 and select another player, the Cardinals would seemingly be prepared to deal down. They moved back from No. 3 to No. 12 on Thursday night, and while Monti Ossenfort's team was hit with a tampering penalty just before Round 1 began and climbed back to 6 for Paris Johnson, the rebuilding squad still holds No. 33 and acquired first- and third-rounders in 2024. Both the Lions and Seahawks passed on Levis twice; each team holds a pick early in Round 2 (Nos. 34 and 37, respectively). The Titans hold No. 41; the Falcons sit at 44, Commanders at 47 and Bucs at 50. The Vikings do not have a second-round pick.
Tennessee entered Round 1 as the team most closely connected to moving up for a quarterback and held pre-draft trade talks with Arizona about moving to No. 3. But the Texans, after weeks of reported QB skepticism, went with C.J. Stroud — a player the Titans were believed to be targeting. If the Steelers pass on a trade at 32, the Titans and Cardinals could resume trade talks. Tennessee hosted Levis on a pre-draft visit. Which team will ultimately end up with the freefalling QB tonight?
Follow @PFRumors